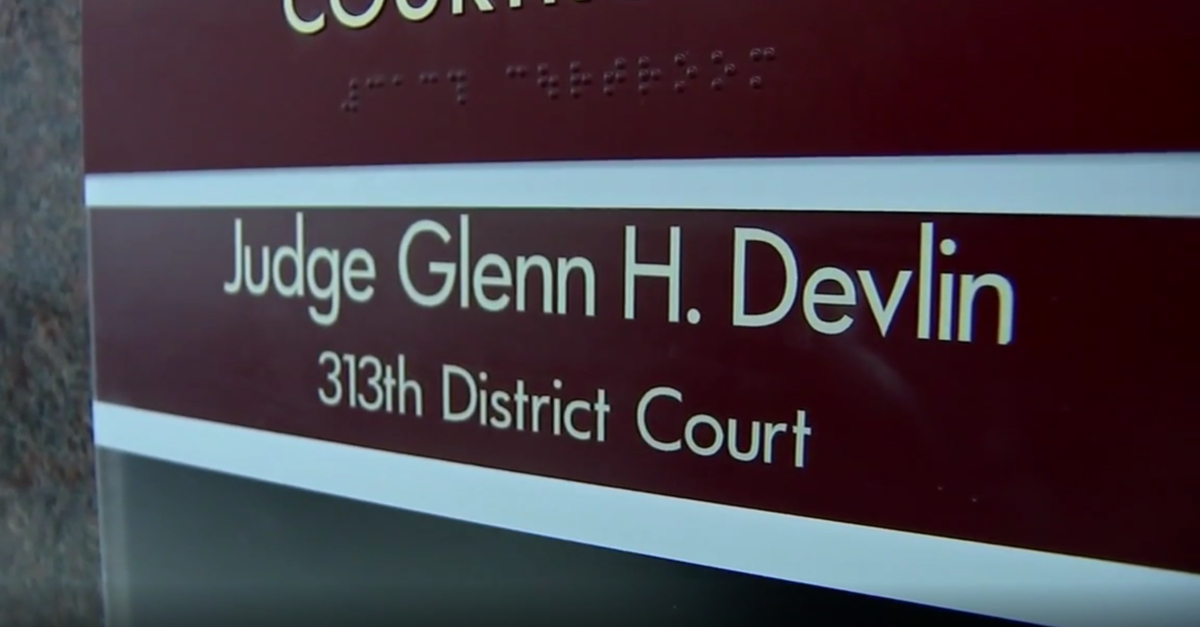 Harris County Family Court Judge Glenn Devlin, a Republican, no-showed work on Thursday two days after losing his re-election bid to Democrat Natalia Oakes, according to The Houston Chronicle. This is just more out-of-character behavior from the jurist. He reportedly released almost every juvenile defendant who appeared before his court Wednesday, after simply asking if they would end up killing anyone.
The freedom spree caught everyone by surprise. Though public defender Steven Halpert insisted that Devlin is known to free defendants for good behavior, the judge has sent a disproportionate amount of kids to lockup. He and fellow Harris County judge John Phillips are responsible for a fifth of all minors in Texas juvenile prisons.
Devlin on Wednesday declined to comment in the Chronicle's story. They said he did not pickup the phone when he called Thursday. Associate Judge Stephen Newhouse filled in for him. A court employee told Law&Crime afternoon that she wasn't sure how to get in touch with the judge. A follow-up request for comment to his court coordinator was not immediately returned.
Others attribute his behavior to his recent election loss.
"He was releasing everybody," Halpert said Wednesday. "Apparently he was saying that's what the voters wanted."
Harris County Chief Public Defender Alex Bunin made the same suggestion.
"It's a huge change and the only thing that has happened is that he was not elected so I don't know what to attribute it to other than that," he said.
All cases were reset to January 4, shortly after Oakes takes office.
The ACLU of Texas voiced outrage at his behavior Wednesday.
"Judge Devlin's mass release of children today, without any apparent concern for the children's safety or for ensuring that they are released to their parents, proves his detachment from the needs of each child," Director of Political Strategies Sharon Watkins Jones said in a statement. "Reducing mass incarceration and addressing racial disparities require judges to look at people as individuals."
They called for the Texas Commission on Judicial Conduct to look into him for violations of the canons of judicial conduct.
"It is improper for a judge to make orders motivated by partisan interests or spite as a result of his political loss," she said.
[Screengrab via ABC 13]
Have a tip we should know? [email protected]