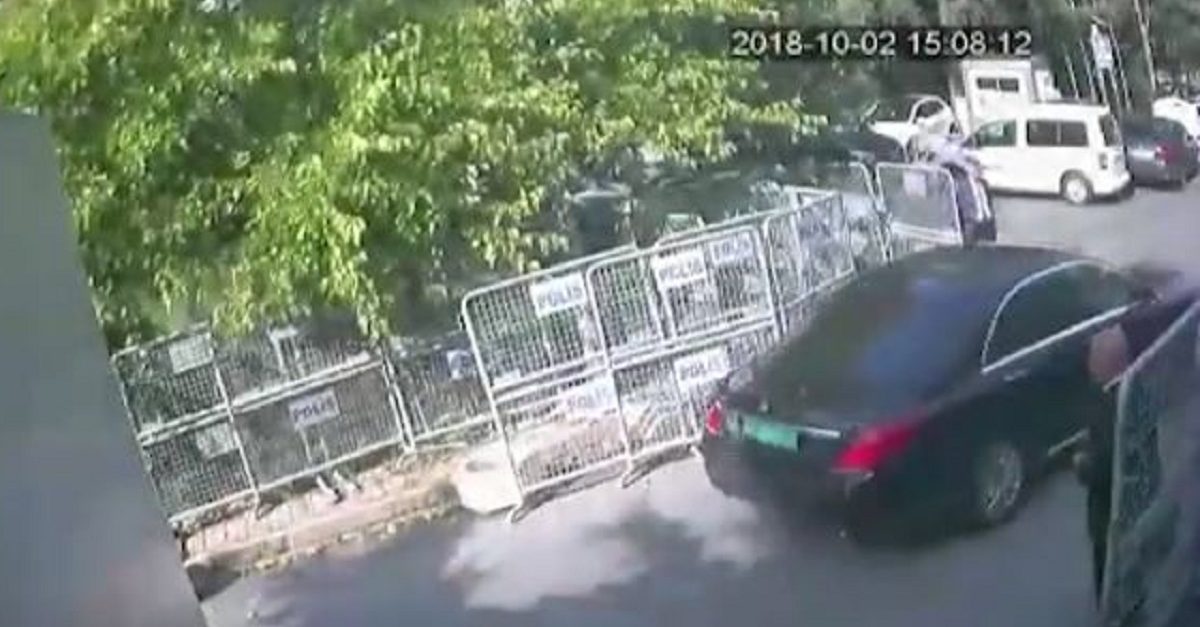 The details surrounding Washington Post columnist Jamal Khashoggi's disappearance after entering the Saudi consulate in Istanbul last week remain a mystery, but according to a new report from the Post, U.S. intelligence officials seemed to have discovered a plan to capture him before it happened, and failed to successfully intervene.
The Turkish government believes that Khashoggi, a Saudi national who was living in the United States, was murdered. According to the New York Times, officials in Istanbul believe he was killed on orders from the royal court of Saudi Arabia. A senior Turkish official told the Times that they think Khashoggi was killed within two hours of entering the consulate, and that a team of Saudi agents then destroyed his body.
A source told the Post that prior to Khashoggi going missing, U.S. intelligence intercepted Saudi officials' communications, which revealed a plan to capture Khashoggi and get him to Saudi Arabia. It was unclear from this whether Saudi Arabia wanted to then kill him or arrest him, or if U.S. officials made Khashoggi aware of this, the source said.
University of Texas law professor Steve Vladeck weighed in on this revelation, saying it's "remarkable" that the U.S. had this intelligence and seemingly failed to act on it.
This is a remarkable @washingtonpost scoop in two very different respects:

First, that the U.S. _had_ intelligence on the plan (and doesn't appear to have done anything about it); and

Second, that someone leaked that (highly classified) intelligence information to the Post… https://t.co/JXgERrhx06

— Steve Vladeck (@steve_vladeck) October 10, 2018
The Saudi government maintains that they had nothing to do with Khashoggi's disappearance, and that the journalist left the consulate soon after he got there. Officials from both Turkey and he United States have sought proof of this, to no avail.
Sen. Bob Corker (R-Tennessee) reportedly spoke to a Saudi ambassador about viewing security video that would show whether or not Khashoggi left the consulate. According to CNN's Manu Raju, Corker said he was told that no such video exists, because the security feed only provides a live feed, with no recordings made. Corker seemed skeptical.
"I've never heard of an embassy in my life that doesn't tape," he said.
Corker said he spoke w Saudi ambassador about missing journalist. "It was not, not a great conversation in that I asked him for the videotape showing him leaving. He shared with me that they only livestream their tapes. I've never heard of an embassy in my life that doesn't tape"

— Manu Raju (@mkraju) October 10, 2018
The Post has obtained video of the areas surrounding the consulate that purportedly shows when Khashoggi arrived at the consulate, as well as the movements of vehicles leaving the consulate two hours later. The Post noted that the footage has been edited, and that timestamps are of questionable accuracy. The footage does not show Khashoggi himself leaving the consulate.
[Image via Washington Post screengrab]
Have a tip we should know? [email protected]