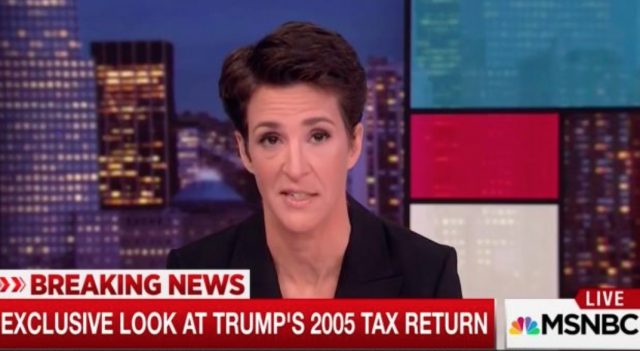 President Donald Trump's personal legal team is reportedly considering legal action against MSNBC and independent investigative reporter David Cay Johnston over the disclosure of a portion of his 2005 tax returns.
Fox Business reported the development on Thursday and obtained a statement from MSNBC stating, "There is no legal prohibition against journalists publishing these tax returns. It is protected by the First Amendment and Supreme Court precedent."  Johnston, however, reportedly declined to comment at this time.
Johnston, along with his website DCReport.org, published the tax returns simultaneously with an appearance on "The Rachel Maddow Show."
As LawNewz's Rachel Stockman explained in an article earlier this week, any case would likely be very difficult for Trump to pursue given First Amendment protections.
Federal law does technically prohibit the unauthorized publication of anyone's tax returns, but most legal experts seem to agree that a court would be unlikely to prosecute journalists for publishing the returns given Trump's newsworthiness as President.  It would be far more likely that the government would prosecute an IRS employee if it was proved that individual leaked the forms.
"If released from the files of the IRS or a state tax agency by a government employee, this would be a felony," tax attorney Robert Kovacev said in an interview with LawNewz earlier this week.
In order to bring the journalists into the lawsuit, legal experts say Trump would almost certainly need to demonstrate that they played a role in illegally obtaining the documents.  Additionally, the Supreme Court has previously ruled that a journalist could not be prosecuted for merely playing illegally obtained wiretap tapes over radio airwaves.  There is also the 1971 Pentagon Papers case in which the Supreme Court ruled in favor of The New York Times after they published highly classified reports that contradicted the Pentagon narrative about the Vietnam War.
Trump's spokeswoman, Hope Hicks, reportedly declined to confirm or deny the reports that legal action was being considered.
[image via screengrab]
Have a tip we should know? [email protected]