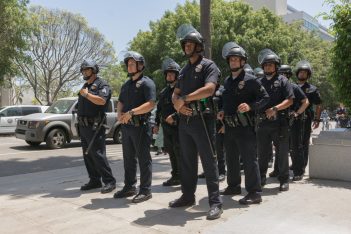 The LAPD is reportedly putting a plan in place in the event Donald Trump wins the election that will enable police to quickly go into "riot mode" if necessary.
The Hollywood Reporter spoke to anonymous sources inside the department who tipped the news outlet off about the plans.
"We are ready to go into riot mode if required, if the order comes," the source reportedly said. "If the outcome sees Mr. Trump elected, measures are in place to maintain calm, if need be."
The department is developing the plans with the Department of Homeland Security, but they say they have no indication yet that there will be any trouble.
[image via betto rodrigues / shutterstock]
Have a tip we should know? [email protected]