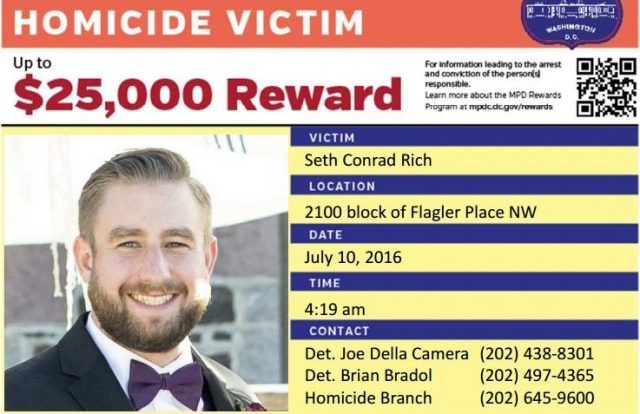 The Profiling Project, an independent, nonpartisan group of forensic psychology graduate students at George Washington University, released a study on Tuesday analyzing the circumstances surrounding the death of Seth Rich. The former Democratic National Committee staffer was killed about a block from his home on July 10, 2016, and no suspect has been found. The report was based on research including public records, security footage, and "informal, limited interviews." While it did not yield a conclusive theory about Rich's death, it did cast significant doubt on the police's theory that Rich was the target of a random robbery.
"We do not believe Offender is a robber, nor a robber who killed," the report says. For one, the report mentions that Rich's watch, wallet, phone, and necklace were not stolen. Additionally, it notes that Rich was shot in the back and there were no signs of a physical struggle. Therefore, it says that Rich's death does not look like a robbery gone bad.
Between their doubt regarding the random robber theory, as well as the lack of physical evidence at the scene, the report concludes that the perpetrator was likely an experienced  killer.
Offender had the ability to kill, and brought with them an instrument to do so. Though we do not know what other items Seth may have had in his possession, his watch, phone, wallet and necklace were not stolen. Nor was Seth's body reported to have been further accosted or degraded. With such a sanitized crime scene and no emotional indications, this is not Offenders first kill.
With a clean crime scene and likely an experienced killer, the report says that Rich may have been targeted. However, it also debunks conspiracy theories surrounding Rich's death, like the controversial belief that Rich was murdered for supposedly leaking information to Wikileaks. The report examined theories of Rich being killed as a result of a planned effort by the DNC, the Clintons, Russian operatives, or some other "hit team."
The Profiling Project ultimately said that none of these theories are likely. If Rich was taken out by the DNC, the Clintons, Russians, or any other organized effort, the report argues, they would have used a professional, who would have made sure Rich was dead. Rich didn't die until after he was transported to a hospital. "A professional killer, whose sole job would have been to terminate Seth," the report says, "did not accomplish their mission prior to escaping." The report does admit that if there was a positive toxicology report that indicated that Rich was poisoned, that could support one of these conspiracy theories, but there were no such reports.
In the end, the report appears to result in even more questions and a dearth of answers. "We may never know why Seth was targeted for attack," it says, "but we do know that so many non-routine events had to take place prior that the interaction that it was not statistically random."
Brad Bauman, a spokesman for the Rich family, said in a statement to WJLA that he and the family had not yet reviewed the entire report. Bauman said:
[T]he family hopes that the general public takes the findings at face value—valuable experience in research collection and report writing for students at George Washington University but in no way should take any findings contained within as new, credible or otherwise lending credence to conspiracy theories surround the circumstances of Seth's death.
[Image via Metropolitan Police Department]
The Profiling Project Seth Rich Report by WJLA-TV on Scribd
Have a tip we should know? [email protected]