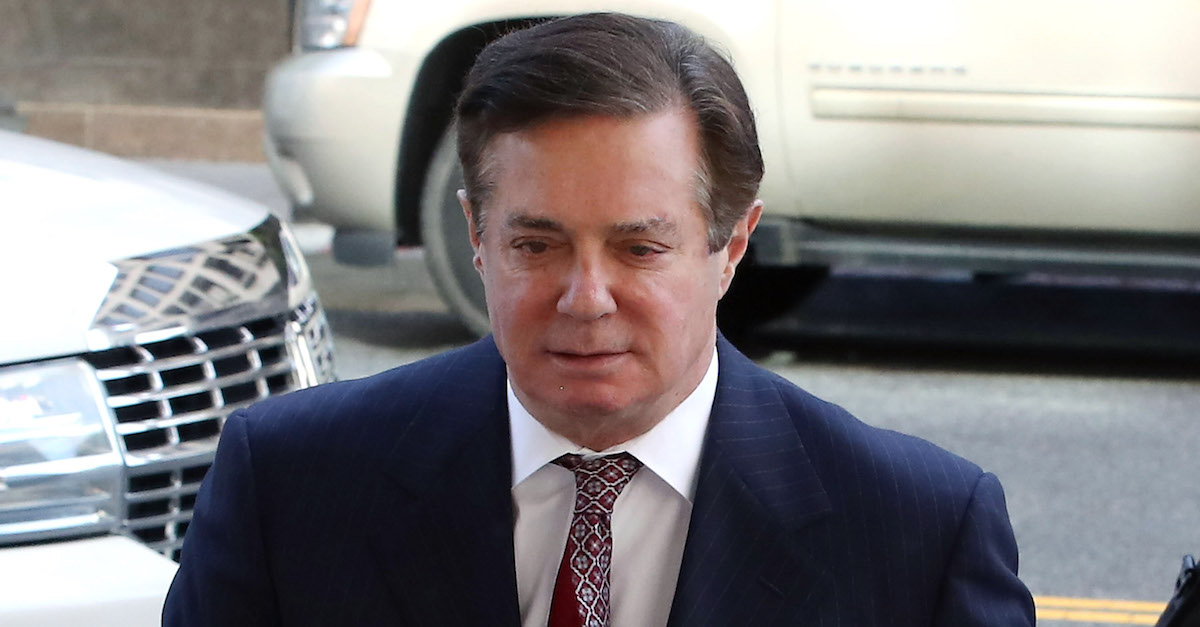 Convicted felon and former Trump 2016 campaign chair Paul Manafort reportedly met with Wikileaks publisher Julian Assange inside the Ecuadorian embassy in London during the 2016 presidential election.
According to The Guardian, Manafort and Assange have engaged in secretive talks in London on several occasions–meeting one another in 2013, 2015, and finally in the spring of 2016. The last alleged meeting between the two is said to have occurred right around the time Manafort joined Donald Trump's presidential campaign.
An anonymous source, which the London-based outlet describes as "well-placed," claims this final Assange-Manafort meeting occurred in March of 2016–just months before Wikileaks released a cache of Democratic National Committee emails allegedly pilfered by Russian intelligence agents.
Other anonymous sources cited by The Guardian claim that Manafort's first visit to the Ecuadorian embassy came one year after the controversial Wikileaks publisher was granted asylum by the Ecuadorian government. The London newspaper also claims to have viewed an internal document from Ecuador's SENAIN, or National Intelligence Secretariat, confirming at least one Assange-Manafort meeting.
The country's former intelligence agency–which was previously tasked with Assange's safety–apparently produced a guest log mentioning "Paul Manaford" [sic] as well as unnamed "Russians." The implication in the Guardian's reporting is that Manafort and the unnamed Russian guests arrived or met with Assange as a group.
Again citing anonymous sources, The Guardian's reporting claims that Manafort returned to the embassy in 2015 and that he "paid another visit in spring 2016, turning up alone, around the time Trump named him as his convention manager. The visit is tentatively dated to March."
The report continues:
Manafort's 2016 visit to Assange lasted about 40 minutes, one source said, adding that the American was casually dressed when he exited the embassy, wearing sandy-colored chinos, a cardigan and a light-colored shirt.

Visitors normally register with embassy security guards and show their passports. Sources in Ecuador, however, say Manafort was not logged.
The report's anonymous sources also claim that Manafort and Assange have a relationship dating back to around 2012 or 2013–allegedly based on Manafort's consulting work in the Ukraine on behalf of eventually ousted former Ukrainian president Viktor Yanukovych.
If true, the Assange-Manafort relationship would obviously be of interest to Special Counsel Robert Mueller, whose broad mandate has included poking around Manafort's overseas work as well as any and all Russian connections to the 2016 U.S. presidential campaign.
Manafort, for his part, denied the claims and said they were "100 percent false." Law&Crime reached out to Wikileaks for comment on this story but no response was forthcoming at the time of publication.
Wikileaks did address The Guardian's reporting in a tweet, however, asserting in acrid tones that the paper's headline and was reporting was far off the mark.
"Remember this day when the Guardian permitted a serial fabricator to totally destroy the paper's reputation," the tweet linking to an archived version of the report notes. "WikiLeaks is willing to bet the Guardian a million dollars and its editor's head that Manafort never met Assange."
[Image via Mark Wilson/Getty Images]
Follow Colin Kalmbacher on Twitter: @colinkalmbacher
Have a tip we should know? [email protected]