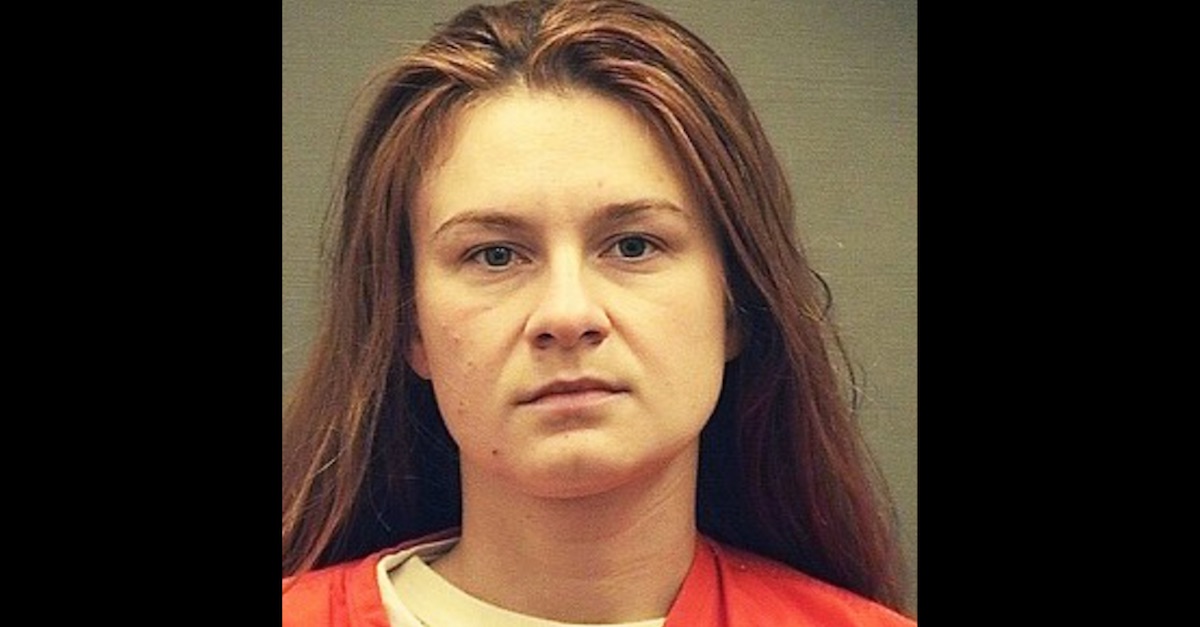 Alleged Russian spy Maria Butina's case may soon reach a resolution, a Friday court filing reveals.
Late Thursday, Butina's legal team filed a motion to dismiss the "indictment (or one of the counts thereof), or to compel election between the multiplicitous counts" on the grounds that the "indictment is constitutionally infirm."
In other words, they believe the government's charges against Butina have too much overlap — "the indictment is defective because the offenses […] are not sufficiently distinct." This means Butina's lawyer Robert Driscoll is concerned his client is being subjected to double jeopardy. He wrote that he is concerned the government is giving "the false impression of more criminal activity when, in law and fact, only one crime could have occurred."
It did not take long for the government and Butina to follow up.
On Friday, a joint motion filed in the U.S. District Court for the District of Columbia revealed that the government and Driscoll move back a status conference on the case for around two weeks. Why? Because negotiations are heating up.
"In support of this motion, the parties state that they continue to engage, as they did prior to yesterday's defense filing, in negotiations regarding a potential resolution of this matter and that those negotiations would be potentially hindered by simultaneously engaging in motions practice."
The filing would add that if the court granted this motion, Butina would "withdraw" the motion to dismiss filed on Thursday, and "accompanying documents she filed yesterday, without prejudice to refiling within any motions hearing the Court sets."
That sure does sound like a plea deal is in the works.
Butina has been charged for allegedly failing to register as a Russian agent and conspiracy. The prosecution memorably had to walk back claims that Butina traded sex for insider access at the NRA.
Butina's lawyer, on the other hand, maintains that messages taken to mean his client was secretly executing the Kremlin's marching order were "taken out of context." Butina's lawyers have chalked up statements to her being young and naive.
"But if fantasizing about a future career in diplomacy and jabbering about personal events and peace-building aspirations with others like a friend and mentor who happens to be an officer from some foreign government agency (whether or not that officer is then acting in an official capacity) makes one a foreign agent, then scores of people are unknowingly violating this statute," Team Butina argued.
[Image via Alexandria Detention Center]
Have a tip we should know? [email protected]