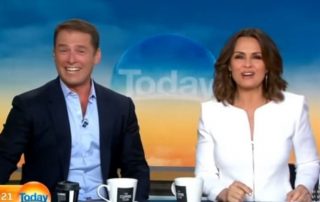 In the ugly, vicious battle that is Australian morning television, Channel Seven's "Sunrise" program had ruled the airwaves since 2003. Over the weekend, however, Channel Nine proudly announced that for the first time in more than a decade, their "Today" show was the new king. But not so fast. Channel Seven is now saying that the would-be usurper's claim isn't backed up by ratings data.
When Channel Nine made their announcement, they claimed that "Today" had the best ratings for their time slot in 21 weeks of official ratings this year. There had been 35 up until that point, with five left to go. The channel announced it on social media, as well as an article on their website.

Their host and one of their journalists also tweeted that they were the country's top show.
A huge thank you to all our fabulous, loyal viewers who have just made @TheTodayShow the No1 breakfast show in the country. #WeLoveAustralia

— Lisa Wilkinson (@Lisa_Wilkinson) October 22, 2016
I never tweet about ratings, but this tremendous triumph has to be recognised. @TheTodayShow NOW AUSTRALIA's #1 BREAKFAST SHOW.

— Airlie Walsh (@AirlieWalsh) October 22, 2016
But Channel Seven isn't relinquishing the throne that easily. They filed a misleading and deceptive conduct claim in Australian federal court in Sydney. They say that Channel Nine's claim only takes into account certain metropolitan markets, so their announcement is misleading.
Indeed, Channel Nine's announcement only referred to winning the ratings war in "five mainland capitals," but that didn't stop their talent from using that information to claim that they were the top show in the country. Channel Seven says that if the data included regional area and not just metropolitan audiences, it would show that their "Sunrise" show is still the most watched.
A Channel Seven spokesman said, "The one indisputable fact is that more Australians watch Sunrise than any other breakfast television program," The Guardian reported.
A hearing in the case is scheduled for Friday.
Have a tip we should know? [email protected]