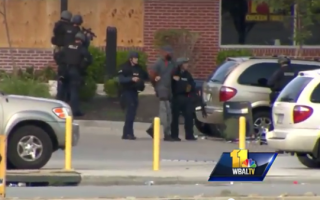 A standoff between police and a suspected rapist who took hostages inside a Baltimore Burger King establishment ended without bloodshed on Sunday, WBAL reported. After six hours, the unidentified suspect released everyone from the restaurant unharmed, and turned himself over to the police.
Police said the incident began when an officer spotted a man who was suspected for a rape that had taken place between 24 and 48 hours earlier. The officer then attempted a traffic stop, but the driver took off. A car chase ensued, until the suspect reportedly crashed into another vehicle, causing minor injuries to another driver. According to authorities, the suspect, who was allegedly armed, then ran into the fast food joint, and kept four patrons inside against their will.
A SWAT team and negotiators responded to the scene, and police blocked off the area.
Eventually, the suspect released the hostages, who were a 25-year-old female Burger King manager, a 17-year-old female employee, a 67-year-old male, and a 7-year-old girl. The standoff began at 11am. The suspect released the 17-year-old at 1:45pm, then the man at 2:20. He finally surrendered and freed the other two at approximately 4:50.
"It's been like hell. My nerves were all over the place," the 7-year-old girl's mother, Keysha Mackall, said. "I'm just glad that she's fine and she's here."
"I think he was exhausted and ready to come out and end the situation." Director T.J. Smith of the Baltimore Police Department said. "He made the decision to do the right thing, and that was not harm anyone."
Have a tip we should know? [email protected]