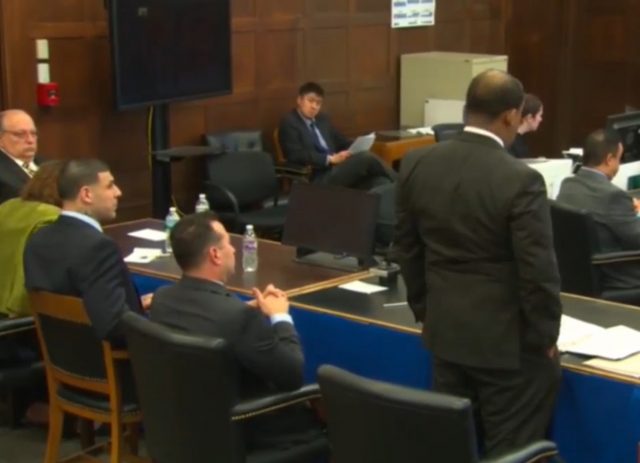 The defense team for former New England Patriots star Aaron Hernandez wasted no time Monday morning asking Judge Jeffrey Locke to declare a mistrial in the case over two issues that will arguably be front and center on appeal in the event of a conviction.
Defense attorney Ronald Sullivan began his mistrial motion with an impassioned argument regarding how Hernandez's tattoos were presented to the jury during the prosecutor's closing arguments.  Sullivan argued the prosecutors implied the jurors could use the tattoos as an admission to the crime on Hernandez's part, in violation of Massachusetts case law that prohibits the use of tattoos for such purposes.
Locke denied the request, saying he properly instructed jurors in how to handle the tattoo testimony in the instructions and the defense made no objection at that time.  He also made a point of noting he told jurors what is said during closing argument is not to be considered evidence, rather it is argument.
However, tempers quickly got hot in the courtroom moments later when Judge Locke mentioned another matter that bothered him.  Specifically, Sullivan's statement last week that the election of a white foreperson for the jury was improper.  Judge Locke asked if Sullivan was implying he should not have chosen the woman because she was white and the jury is majority-minority?  Massachusetts law allows the judge to appoint the jury foreperson. Most states do not have a similar procedure for selecting the foreperson.
"I find it astounding that you would made that claim,"  Locke said, adding he felt personally offended and felt the comments offended "the integrity of the" court system.
Sullivan attempted clarifying his remarks, much more delicately, saying he simply was asking that the foreperson should not have been chosen before the alternates were drawn.  Otherwise, he essentially argued, all of the jurors were denied the same opportunity to serve as foreperson or remain on the jury at all.
The clarifying argument did not appear to do much damage control, if that was the effort.  Judge Locke was still clearly disturbed by the implication of the prior argument and did not hide it. He ended the discussion by accepting Sullivan's explanation, but by saying he has always selected the foreperson the same way (pursuant to Massachusetts law).
He added, "It would be foolish to take a well qualified juror who had given close and careful attention throughout the trial, and who would be able to perform that function and then knock them off just by random draw."
"I do not know any judge in the Commonwealth that would do that," he said.
Judge Locke concluded by saying he still did not fully understand Sullivan's reasoning and argument, but was satisfied he had explored it, to the extent possible.
The trial went back into recess and we are still awaiting a verdict from the jurors.  Stick with LawNewz to the the get latest on what is happening in the Hernandez trial.
[image via screengrab]
Have a tip we should know? [email protected]