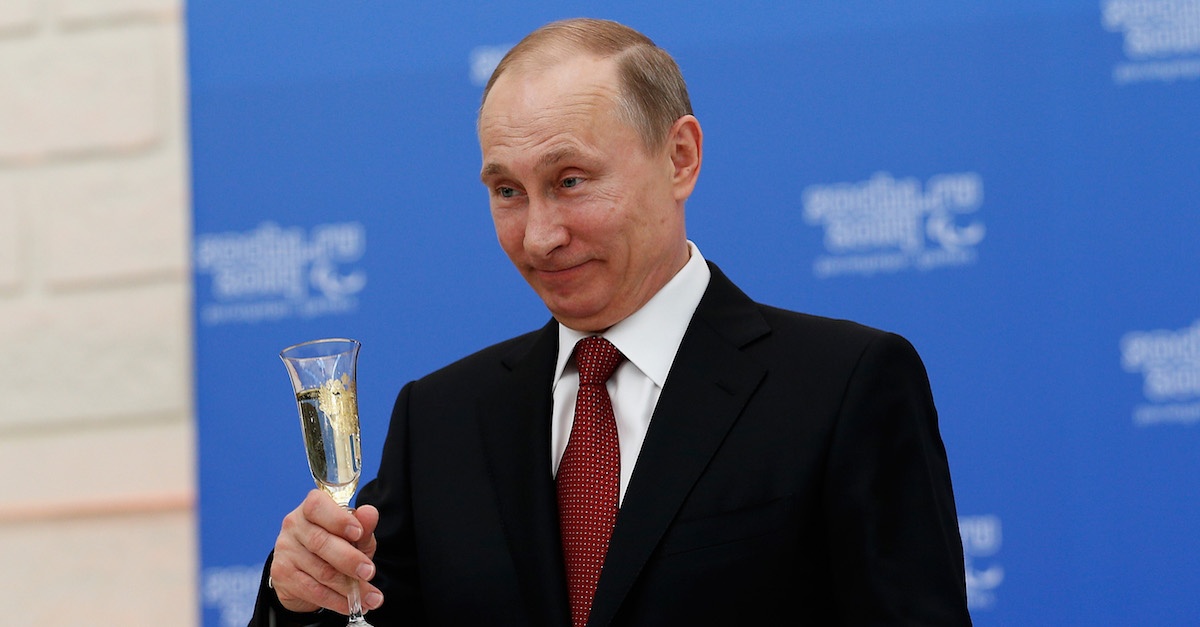 It had been a while since we last checked in on the lingering Russian troll farm case brought by then-special counsel Robert Mueller amid his probe of Russian interference in the 2016 election. We were not disappointed.
As part of a Wednesday filing by defendants Concord Management and Consulting, LLC, Yevgeniy Prigozhin, a Russian oligarch nicknamed "Putin's chef," submitted a sworn declaration. The Kremlin-connected businessman–under indictment in the U.S. for interfering in the 2016 election–got the nickname because he is Russian President Vladimir Putin's "go-to oligarch."
RELATED: 'You F***ed Up': Alleged Russian Troll Farm Quotes Animal House in Effort to Compel Discovery
RELATED: Mueller's Smackdown of Accused Russian Troll Farm Is Chock Full of Holy Sh*t Moments
Per the filing:
Pursuant to the Court's March 2, 2020 Order, ECF 368, Defendant Concord Management and Consulting LLC ("Concord"), through counsel, provides notice that it is filing a scanned copy of a Russian-language declaration of Yevgeniy Prigozhin, along with an English translation, including Russian-language and English translations of exhibits 1 through 3 referenced therein.
The long and short of it is this: Prigozhin says he wasn't really involved with the company he owns in the lead-up to the 2016 election; in any case, company policy dictates that–oops!–destruction of electronic records is normal after three months pass:
At present, I am the General Director of Concord Management and Consulting LLC, Individual Taxpayer Number 7825100880, Main State Registration Number 1037843002515 ("Concord"), and have held this position since March 1, 2018. During the period from January 1, 2014 to February 1, 2018, I was neither Concord's General Director, nor its officer nor its employee. I am also currently the sole shareholder of Concord and acquired this stake in Concord on February 28, 2017. During the period from January 1, 2014 to February 28, 2017, I was not a shareholder of Concord.

[…]

Since April 17, 2014, Concord has had an established policy for maintaining electronic mail messages and records for no more than three months, and this policy is enforced by automated destruction of electronic messages at both the mail server and workstation levels. A copy of the order establishing this policy for maintaining electronic correspondence is attached as Exhibit 1 along with a translation into English. As is common practice for many Russian organizations, Concord does not as a rule keep electronic copies of business documents; therefore, contracts, correspondence (other than electronic mail which is destroyed), corporate documents and the like are kept in paper folders on-premises at Concord's office. As for records of payments, Concord uses 1C (also known as 1S in English), a popular Russian off-the-shelf business software solution, for payments as well as accounting and tax compliance. Concord does not have access to its employees' mobile phones or keep records of its employees' mobile phone calls, text messages or other usage. Concord does not use electronic back-up systems, including cloud systems, and does not have an off-site duplicate of paper records.
The Department of Justice charged Prighozin and many others in 2018 as part of the Internet Research Agency indictment. The indictment spelled out the connection between Prigozhin, the Internet Research Agency, and Concord. Prigozhin and Concord allegedly bankrolled the troll farm as part of a massive conspiracy to interfere in the 2016 election:
Beginning as early as 2014, Defendant ORGANIZATION began operations to interfere with the U.S. political system, including the 2016 U.S. presidential election. Defendant ORGANIZATION received funding for its operations from Defendant YEVGENIY VIKTOROVICH PRIGOZHIN and companies he controlled, including Defendants CONCORD MANAGEMENT AND CONSULTING LLC and CONCORD CATERING (collectively "CONCORD"). Defendants CONCORD and PRIGOZHIN spent significant funds to further the ORGANIZATION's operations and to pay the remaining Defendants, along with other uncharged ORGANIZATION employees, salaries and bonuses for their work at the ORGANIZATION.

Defendants, posing as U.S. persons and creating false U.S. personas, operated social media pages and groups designed to attract U.S. audiences. These groups and pages, which addressed divisive U.S. political and social issues, falsely claimed to be controlled by U.S. activists when, in fact, they were controlled by Defendants. Defendants also used the stolen identities of real U.S. persons to post on ORGANIZATION-controlled social media accounts. Over time, these social media accounts became Defendants' means to reach significant numbers of Americans for purposes of interfering with the U.S. political system, including the presidential election of 2016.
The declaration comes on the heels of claims by the government that a mystery witness of sorts is prepared to implicate Prigozhin in election interference.
The declaration and exhibits are embedded below.
Troll farm 1 by Law&Crime on Scribd
Troll farm 2 by Law&Crime on Scribd
Troll Farm 3 by Law&Crime on Scribd
Troll Farm 4 by Law&Crime on Scribd
[Image via Harry Engels/Getty Images]
Have a tip we should know? [email protected]