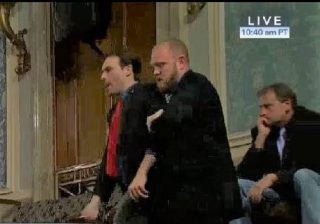 Friday afternoon, the votes of the electoral college were announced, counted, and certified by a joint session of Congress. Despite a last-minute push for objections to votes, no objections were recognized by Congress. Interestingly, there were a number of state representatives who raised objections because they did not receive a signature from a Senator as required. However, Vice President Joe Biden, in his role as President of the Senate and chair of the joint session, did not accept them.
After all of the states' votes were announced in alphabetical order, Vice President Biden announced the final result, with Donald Trump's victory being officially certified. During Biden's closing remarks, at least three protesters shouted from the audience and were promptly and physically removed from the premises.
C-SPAN cameras showed a man, then a woman, and finally another man shouting their objections to the election, with the last repeatedly  exclaiming, "one person, one vote!"
Once the protesters were removed, Biden concluded the joint session, officially making Donald Trump the next President of the United States.
[Screengrab via C-SPAN]
Have a tip we should know? [email protected]