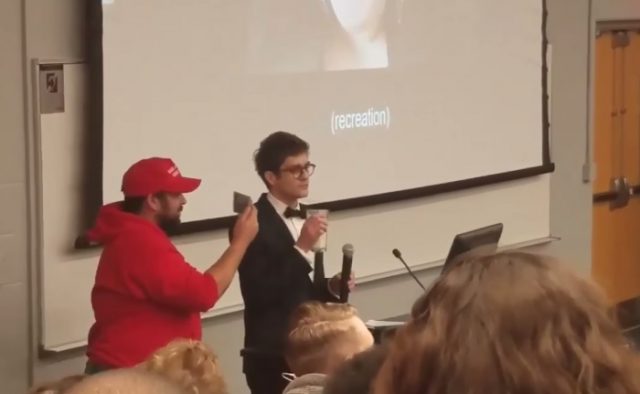 The protester who recently removed the speaker's notes for an in-progress campus speech titled "It's OK to Be White" is herself employed by an institute of higher education.
Catherine Gregory is an associate director of career services and advising at Quinebaug Valley Community College. Gregory's employer has now increased security in the aftermath of her actions and unmasking, due to multiple death threats she's received since being identified.
On November 28, Gregory successfully shut down the speech by hurrying up to the lectern and grabbing conservative commentator Lucian Wintrich's notes. Wintrich is the White House correspondent for alt-right, conspiracy-fueled, pro-Trump media outlet The Gateway Pundit.
As Gregory hurried back down from the speaking area, Wintrich followed Gregory and grabbed her by the shoulders, "pulling her back in a violent manner," according to the UConn Police Department. Wintrich was arrested on the spot by law enforcement officers attending the speech.
He was charged with breach of the peace, a misdemeanor, and was released later that evening after posting $1,000 bond. Gregory was later arrested and charged with disorderly conduct and attempted sixth-degree larceny over the incident just this past weekend.
Law enforcement's initial reluctance to arrest and charge Gregory led many pundits left and right to bemoan the state of free speech in the United States and the apparently selective enforcement of laws.
Liberal George Washington University Law Professor Jonathan Turley penned a spirited denunciation of Gregory. He wrote:
It is particularly disturbing to see someone associated with an institution of high education acting to silence opposing speakers and actually stealing material. Gregory's conduct was reprehensible and showed the same contempt for free speech that we have discussed as part of a rising intolerance on our campuses.
Carlee Drummer, president of Quinebaug Valley Community College, issued a statement declining to discipline Gregory, because "the employee attended the event as a private citizen."
[image via screengrab]
Follow Colin Kalmbacher on Twitter: @colinkalmbacher
Have a tip we should know? [email protected]