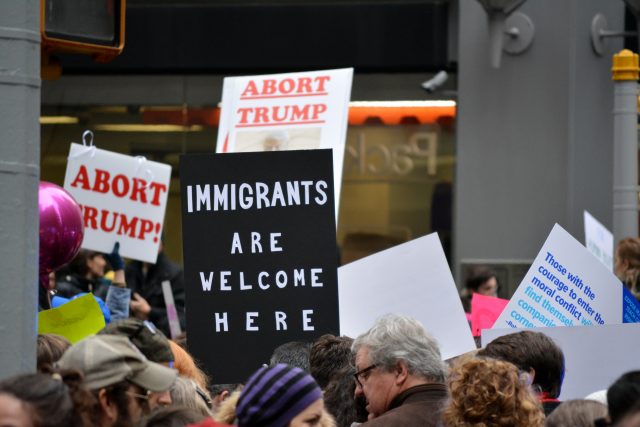 We hope President Donald Trump has a large team of lawyers prepped and ready to go. Good thing the DOJ is now hiring. They will be busy.  Since Trump signed his executive order on immigration this Friday, LawNewz.com has counted them up and found he has been sued a whopping 39 times in federal court! That must be some kind of record. You can bet defending the lawsuits will cost the taxpayers as well.
As we reported last week, prior to this whole immigration order, Trump was facing 34 lawsuits since getting elected. The fallout from the latest executive action nearly doubles that. Trump is now facing a total of more than 70 lawsuits when you include legal action taken by citizens on other issues besides immigration. Here at LawNewz.com, we've reported on many of the lawsuits, and the recent ones were filed by civil rights organizations, and on behalf of refugees who have valid immigrant licenses to enter into United States. Several judges have issued orders putting a stop to various portions of the executive order. However, no court has provided a final determination on the Constitutionality of the ban.
Hours after the executive order was signed, two Iraqis, Hameed Khalid Darweesh and Haider Sameer Abdulkaleq Alshawi, who were being detained at J.F.K airport, filed an emergency court action. A federal judge, on Saturday night, enjoined the Trump administration from removing people from the country who had approved refugee applications and other individuals from Iraq, Syria, Iran, Sudan, Libya, Somalia, and Yemen legally authorized to enter the United States.
That was one of at least six different judge orders smacking down different parts of Trump's immigration directive. The Trump order suspends the Refugee Admission Program for 120 days, indefinitely blocks all refugees from Syria, and bans people from mostly Muslim countries with suspected terrorism links including Iran, Iraq, Libya, Somalia, Sudan, Syria and Yemen from entering the United States for 90 days.  Several of the lawsuits challenge whether the order violates the Establishment Clause of the First Amendment asserting that the order openly discriminates against Muslims.
On Monday, the Council on American-Islamic Relations filed  Sarsour v. Trump alleging that the president's executive order is a "Muslim Exclusion Order." Washington State was the first state to sue Trump, seeking a stay on his immigration ban.  The lawsuit claims the order "is separating Washington families, harming thousands of Washington residents, damaging Washington's economy, hurting Washington-based companies, and undermining Washington's sovereign interest in remaining a welcoming place for immigrants and refugees."
On Tuesday, a Los Angeles federal judge issued what might  be the most sweeping order yet. "Unlike the previous federal court orders that appeared to focus on mandating the release of detained travelers who already arrived at U.S. airports,  Birotte's order requires federal officials to allow persons from the seven banned countries to come to the United States even though they are still overseas, so long as they have valid U.S. immigration visas," attorney Susan Seager wrote for LawNewz.com. 
Late Wednesday night, the State of Virgina looked to hold Trump in contempt of court for violating a federal judge's order.  The petitioners claim that Customs and Border Protection officials didn't let attorneys speak with legal residents who were being detained at Virginia's Dulles International Airport. These suits will be going on for months and months, and may even reach the U.S. Supreme Court.
Here is a list of all the lawsuits that have been filed thus far against Trump's immigration ban. We will continue to follow them closely here at LawNewz.com 
1) John Doe v. Trump
2) Aziz et al v. Trump
3)  Shahin Hassanpour v. Trump
4) Mohammed Houshmand  v Donald Trump
5) Amena Mohammed Abdula Ahmed v Trump
6) Narges Bayani v Trump
7) Aria Jalayer v Trump
8) Abushamma v. Trump et al
9)Alqaissi et al v. Trump et al
10)  Sabounchi v. Trump et al
11) Al Saeedi v. Trump et al
12) Alknfushe v. Trump et al
13) Darweesh et al v. Trump et al
14) Louhghalam et al v. Trump
15) Seyed v. Trump et a
16) Noohi v. Trump et al
17) Customs and Border Protection Agency et al v. Trump et al
18) Hemaidan v. Trump et al
19) JD People of the United States of America v. Trump et al
20) Ali Khoshbakhti Vayeghan v. John F. Kelly, et al.
21) K Hassanpour v. Trump et al
22) Morshed v. Trump et al
23) Alinejad v. Trump et al
24) Fasihianifard v. Trump et al
25) Hatahet v. Trump et al
26) Fatema Farmad et al v. Donald Trump et al
27) State of Washington v. Trump et al
28) Ali et al v. Trump et al
29) Sarsour et al v. Walid et a
30) Doe v. Trump et al
31) Albaldawi v. Trump et al
32) Albaldawi v. Trump et al
33) ABOU ASALI et al v. U.S. DEPARTMENT OF HOMELAND SECURITY ("DHS") et al
34)  Azimi et al v. Trump et al
35) Arab American Civil Rights League et al v. Donald Trump et al
36) Amer Al Hommsi v. Trump et al
37) Hagig v. Trump et al
38) Unite Oregon v. Trump et al
39)Asgari v. Trump et al
[image via shutter stock]
Have a tip we should know? [email protected]
Rachel Stockman - Editor in Chief / On Air Host