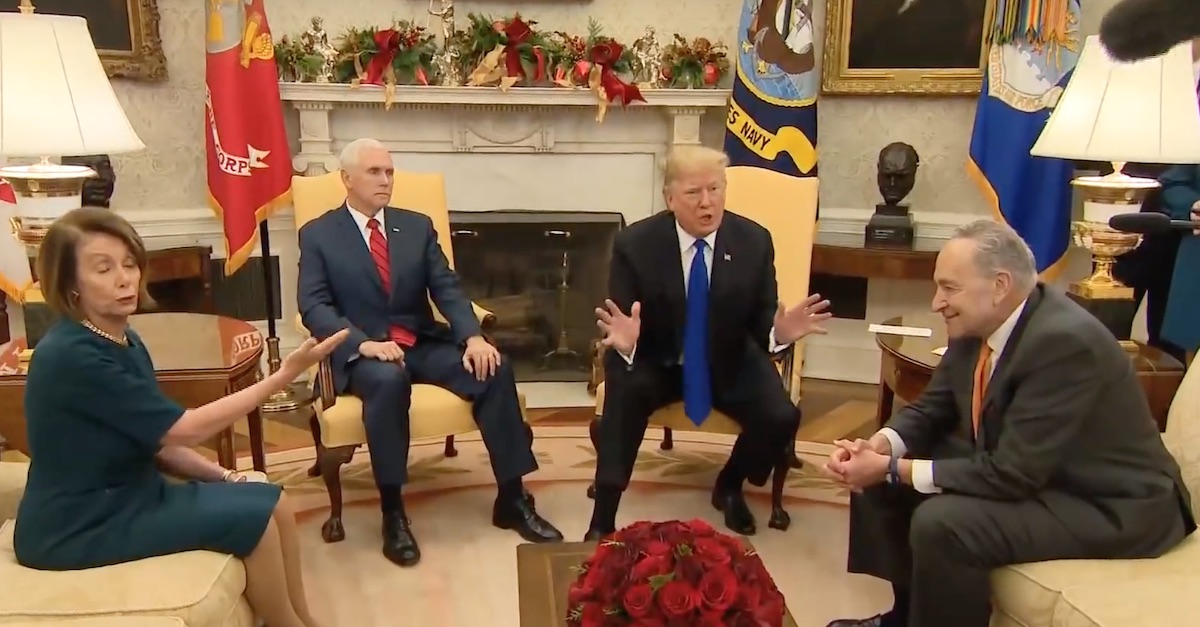 President Donald Trump is under siege, whether by Special Counsel Robert Mueller, prosecutors in the Southern District of New York, or the incoming New York attorney general. The president's potential legal exposure is front and center of the national discussion, especially now that his ex-attorney Michael Cohen has pleaded guilty to felony campaign finance violations and implicated his former boss by saying that Trump "directed" hush payments to influence the 2016 election.
All of this leaves the president in a precarious situation. We know the president has exercised and dangled his pardon power, but one thing that's debatable is whether he can pardon himself. Nonetheless — plot twist — Vice President Mike Pence could be his only hope, according to a 1974 opinion from the Department of Justice's Office of Legal Counsel. That would be the last year of Richard Nixon's presidency. The opinion was written on August 5, 1974 — four days before Nixon resigned in disgrace. That opinion stated that a president cannot pardon themselves, but they do have another option.
This opinion shows that there is theoretically a scenario where Trump could invoke the 25th Amendment to temporarily remove himself from office and be pardoned by Acting President Mike Pence and either resign or resume the duties of his office. Don't take our word for it, take the DOJ's:
Under the fundamental rule that no one may be a judge in his own case, the President cannot pardon himself.

If under the Twenty-Fifth Amendment the President declared that he was temporarily unable to perform the duties of the office, the Vice President would become Acting President and as such could pardon the President. Thereafter the President could either resign or resume the duties of his office.

Although as a general matter Congress cannot enact amnesty or pardoning legislation, because to do so would interfere with the pardoning power vested expressly in the President by the Constitution, it could be argued that a congressional pardon granted to the President would not interfere with the President's pardoning power because that power does not extend to the President himself.
While DOJ guidelines do say that a sitting president cannot be indicted, this would protect Trump from facing charges when he leaves office. This kind of a move would be seen as improper to the highest order, but desperate times call for desperate measures. How persuasive would this non-binding opinion even be? We don't know, this hasn't been tried before.
CNN legal analyst and attorney Ross Garber cautioned that, if it is tried, the Supreme Court could very well see right through this as an improper reason for invoking the 25th Amendment.
"The Supreme Court could determine that it was an improper invocation of the 25th Amendment, because the president was not 'unable to discharge the powers and duties of his office,' as contemplated by the Constitution," he told Law&Crime. "Such a move would also pose a substantial danger of impeachment, not only for the President, but also for the Vice President."
OLC on Pardon of the President by Law&Crime on Scribd
[Image via YouTube screengrab]
Have a tip we should know? [email protected]