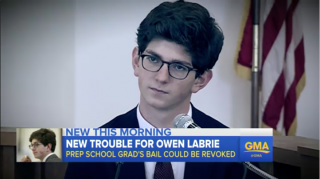 Owen Labrie, the New Hampshire prep school student who made national headlines after being convicted of sexually assaulting an underage classmate is headed to jail. After violating the curfew conditions of his bail, Labrie, who is appealing his one-year sentence for misdemeanor sexual assault, had his bail revoked and his sentence starts today—as in, right now.
Prosecutors alleged that Labrie violated his curfew at least eight times since his conviction. One such violation occurred when Labrie sat next to Vice Reporter Sarah Zalkind on a train from Boston to Cambridge, who tweeted, "He's in town visiting his girlfriend of three years he tells me. She goes to Harvard." Now, that Vice article is part of the evidence that has landed him in jail.
Lawyers for Labrie argued that he only violated the curfew to meet with his lawyers and pursue education, but that argument did not hold up. Prosectuors on the other hand wanted his bail to be revoked and for Labrie to go to jail—they got their wish.
The rosy-cheeked 20-year-old, initially insisted he did nothing wrong, telling Newsweek, "it was the only thing that sustained me, knowing I had told the truth. I had done what was right. I walked out of the courthouse with my chin up."
Labrie refused plea deals that would have required him to admit to sex with the girl, but would have put him behind bars for less than a month with no sex offender registration. Yet, Labrie is unwavering about his innocence, saying he would handle his legal decisions the "exact same way."
[h/t ABCNews]
[Screengrab via ABCNews]
Have a tip we should know? [email protected]