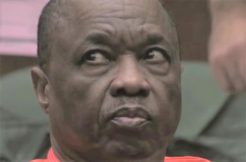 The "Grim Sleeper" case didn't end with his May 5 conviction. A California court gave Lonnie David Franklin Jr., 63, the death sentence for 10 murders: nine women, and a 15-year-old girl. That might not be everyone, though.
PEOPLE magazine reports that The Los Angeles Police Department still needs help locating 35 possible victims. Investigators found over 1,000 photos and videotapes of women and teen girls in Franklin's garage and camper after his 2010 arrest. Images were of a sexual nature, and as the outlet put it, some women seemed "unconscious, asleep or dead." Problem was, police couldn't ID 180 of those images. They chipped away for years, but more work is needed.
"We don't know who these women are," LAPD detective Daryn Dupree told the outlet in a 2015 interview. "We want to make sure these women are okay."
Investigators actually released the pictures online so the public could help out. Please be warned that these photos are very graphic.
If more victims are discovered, then it might undermine Franklin's nickname. The confirmed murders spanned 1985 to 2007, with an apparent 14-year break. Hence, the "Grim Sleeper" moniker. But maybe he wasn't lying dormant at all.
The LAPD has gotten slammed for initial handling of the case. It has been said the investigation took so long because some officials just didn't take these killings seriously—each confirmed victim was black, and linked to alleged prostitution or drug use. A 2014 documentary, Tales of the Grim Sleeper reported how some cops accordingly labeled the murders as "NHI"—No Human Involved. From filmmaker Nick Broomfield's 2015 interview with NY Mag:
NHI is police slang for No Human Involved. When they radio something in, it's always abbreviated. NHI is used when a prostitute or drug addict is killed. It means, pick the body up, don't really bother doing proper forensics; this won't need anything more than a cursory examination. The police don't see these women as people. When community members raised concerns in the '80s, police were like, "Why are you so worried? He's just killing prostitutes."
Franklin remains locked up in San Quentin State Prison. His confirmed victims, in chronological order: Debra Jackson, 29; Henrietta Wright, 35; Barbara Ware, 23; Bernita Sparks (different reports have her at 25 or 26); Mary Lowe, 26; Lachrica Jefferson, 22; Alicia "Monique" Alexander, 18; Princess Berthomieux, 15; Valerie McCorvey, 35; and Janecia Peters, 25. The police have also think 1986 murder of Thomas Steele, 36, might be linked somehow.
[Screengrab via HBO Documentary Films]
Have a tip we should know? [email protected]