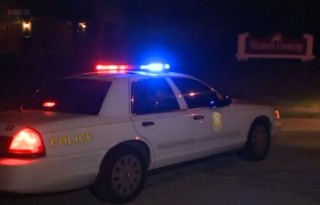 An Indiana man called police after his wife was robbed at gunpoint, and ended up being targeted himself. Homeowner Carl Williams called 911 early on Tuesday and reported that a black man with a gun stole his wife's car keys outside their house and drove off in her car, IndyStar reported. When officers arrived at the scene, they saw the garage door open, with Williams, who is black, inside. An officer then shot him once in the abdomen.
"Our homeowner, the individual who was trying his best protect himself and his wife from any other harm, was shot mistakenly by our officers," Maj. Richard Riddle of the Indianapolis Metro Police Department said at a press conference. "She was victimized, and unfortunately now, her husband was victimized as well."
Williams was holding a handgun at the time, according to IndyStar. Williams had told the 911 operator that the suspect was armed with a rifle, or "long gun." He did not say on the phone that he himself was armed.
While Riddle acknowledged the officer's mistake, he offered advice to prevent a tragedy like this from happening in the future. "If you call 911, and you know the officers are on their way, clearly we have guns, and the last thing that we want to do is confront a legal owner of a firearm and a homeowner that's doing their best to protect their family."
The real suspect is still on the loose, Riddle said. Williams was taken to a hospital for surgery. As of Wednesday morning, he was in serious condition, but he is expected to survive the ordeal. The officer who shot him, nine-year veteran Christopher Mills, has been placed on administrative leave while the incident is being investigated.
Have a tip we should know? [email protected]