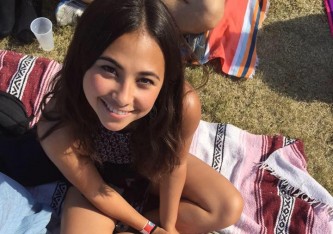 Authorities are seeking the public's help in identifying a person of interest in the murder of Haruka Weiser, a University of Texas freshman dance major who was found dead on campus in Waller Creek on Tuesday.
During a news conference on Thursday afternoon, Austin Police Assistant Chief Troy Gay said Weiser was last seen around 9:30 p.m. on Sunday night leaving the Winship Drama Building to walk back to her dorm room.  She never made it back to the dorm and was reported missing by her roommate late Monday morning.  Gay said campus police initiated the "normal protocol" for a missing person report and began talking with friends and family in an effort to locate her.
On Tuesday morning around 10:30 a.m. authorities discovered the remains of a young woman in Waller Creek, near the university's Alumni Center.  The body was formally identified as Weiser on Thursday morning.  Gay told reporters that Weiser had been "assaulted" but did not provide further details, citing the pending investigation.
Authorities also released a grainy surveillance video of an unknown man identified as a person of interest in the case who was seen walking with a woman's bicycle around 11:00 p.m. on Sunday evening.
"At this time, we do not know the identity of the suspect and we definitely will need the support of our community," Gay told reporters.  He also said there is no reason to believe the man in the video is a student at the university.
Police are offering a $15,000 reward for information about Weiser's death.
[h/t NBC News; image via Facebook]
Have a tip we should know? [email protected]