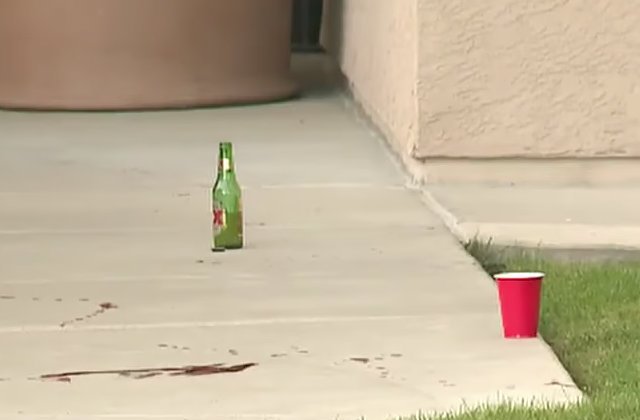 SAN DIEGO (AP) — A gunman despondent over a recent breakup opened fire at a poolside birthday party and phoned his ex-girlfriend as he kept shooting strangers, killing one woman and injuring six other partygoers before he was killed by officers, police said Monday.
Peter Selis, 49, sat on a pool chair during most of the rampage, calmly shooting guests at the party with a .45-caliber handgun. The victims were black and Latino and Selis was white, but police don't think race played a factor.
"These victims were just in his vicinity when he committed this terrible tragedy," Chief Shelley Zimmerman said. "What started as a celebration of a friend's birthday party turned into a tragedy of epic proportions."
Witnesses said Selis was wearing a black coat and sitting alone during the party for a man's 50th birthday Sunday at an apartment complex near the University of California, San Diego.
At one point the guest of honor invited the man to join the party. That's when Selis drew a handgun and shot the honoree in the torso, said Demetrius Griffin, a friend at the party.
"He didn't stand up. He sat the whole time. Even when he reloaded his magazine, he sat in his chair," said Griffin. "It was very eerie, to say the least. He didn't stand up. He didn't say anything. He just opened fire."
After shooting two people, Selis called his ex-girlfriend and said what he'd done and that police were there and then continued firing.
"It is apparent that Selis wanted his ex-girlfriend to listen in as he carried out his rampage," Zimmerman said.
Selis shot four black women, two black men and one Latino man, police said.
Two victims remained in critical condition, but were expected to survive, Zimmerman said. Another man was taken to the hospital after he broke his arm running away.
Rikky Galiendes, 27, said he heard between eight to 10 gunshots around 6 p.m. and looked outside his sixth-story apartment in University City, a diverse neighborhood near the campus. He spotted a man bleeding and running near the pool below.
Galiendes said he called out to ask if the man needed help when his roommate grabbed him, yanked him down and pointed toward a man sitting in a chair with a gun.
"When we looked over the balcony, he was just sitting down with a gun on his lap," Galiendes said. "He was calm, you know. I mean from my perspective, the guy was ready to do whatever he was going to do. He shot at people having a good time and having a party."
Galiendes and his roommate ran back inside and called police.
A police helicopter arrived first, and the pilot reported seeing multiple victims on the ground and that Selis appeared to be reloading in the pool area, the police chief said.
Three officers arrived and shot Selis after he pointed a large-caliber handgun at them, she said.
Selis and one of the partygoers lived at the complex in the diverse community north of downtown San Diego.
Selis, a father who worked as a mechanic at a Ford dealership, filed for federal bankruptcy protection in October 2015, listing $14,000 in assets and $108,000 in liabilities, according to court records.
"This is truly a horrific act of violence," San Diego Mayor Kevin Faulconer said at a news conference. "Our entire city, all of our thoughts and prayers, all San Diegans' thoughts and prayers, are with the victims and their families tonight."
Galiendes and his roommate stayed indoors until neighbors yelled that it was safe to come out. He said the scene was horrifying.
"As soon as I heard the gunshots, I had goosebumps and the whole thing was really emotionally draining — seeing blood everywhere, seeing bodies on the ground, hoping they survived, seeing bloody footsteps you know of people who ran away. There was just so much blood. It was so surreal."
Galiendes, a student at UC San Diego, said he has lived in the complex since September.
"It was chilling," he said. "La Jolla is known to be really safe, and this is a family neighborhood."
___
Associated Press reporters Christopher Weber, Michael Balsamo and Brian Melley in Los Angeles contributed to this report.
[Image via Fox News]
Have a tip we should know? [email protected]