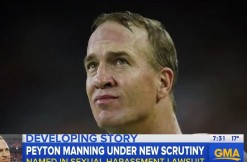 An old allegation against football player Peyton Manning resurfaced in a lawsuit filed last week. Six unidentified women are suing his alma mater, The University of Tennessee, for the way it handled (or didn't handle) claims of sexual assaults by student-athletes. None of the plaintiffs were alleged victims of Manning, but their suit did mention a 1996 incident when he was accused of rubbing his bare genitals and butt on a trainer, Jamie Ann Naughright.
That claim has gained new traction, according to a Monday report by Good Morning America. All in all, the women say UT acted with "deliberate indifference in its response to incidents of sexual assault." In their suit, they mention almost a dozen examples of student-athletes acting out of bounds, which the University allegedly downplayed.
"Even if it's 20 years old, even if he was in college, I still think it resonates in large part because of the image he has created for himself," Christine Brennan, USA Today columnist, told Good Morning America. And though Manning isn't facing legal action (more on that in a moment), his reputation is being put on trial. Ask a random football fan, and you'll be told he is one of the greatest players ever, with an all an all-time record among quarterbacks with 200 career victories. The recent win at Super Bowl 50 got him his second championship win. He's also been on plenty of commercials, and TV shows, building a rep as a likable, quirky jock.
He denied the allegations at the time. Still, Naughright hit the University with a suit in 1997, which was later settled. That claim resurfaced yet again when Manning mentioned it in a 2000 autobiography. He insisted he'd just been mooning a teammate, while Naughright, who had a "vulgar mouth," was just looking for a reason to sue the school. Cue another lawsuit, this one for defamation, filed by the trainer against the quarterback (not to mention Peyton's dad Archie, ghostwriter John Underwood, and the publisher, HarperCollins). This other legal action was also settled out of court.
Good Morning America contacted both Manning and The University of Tennessee for comment, but got no reply.
[h/t The Tennessean]
[image via Good Morning America screengrab]
–
>> Follow Alberto Luperon on Twitter (@Alberto Luperon)
Have a tip we should know? [email protected]