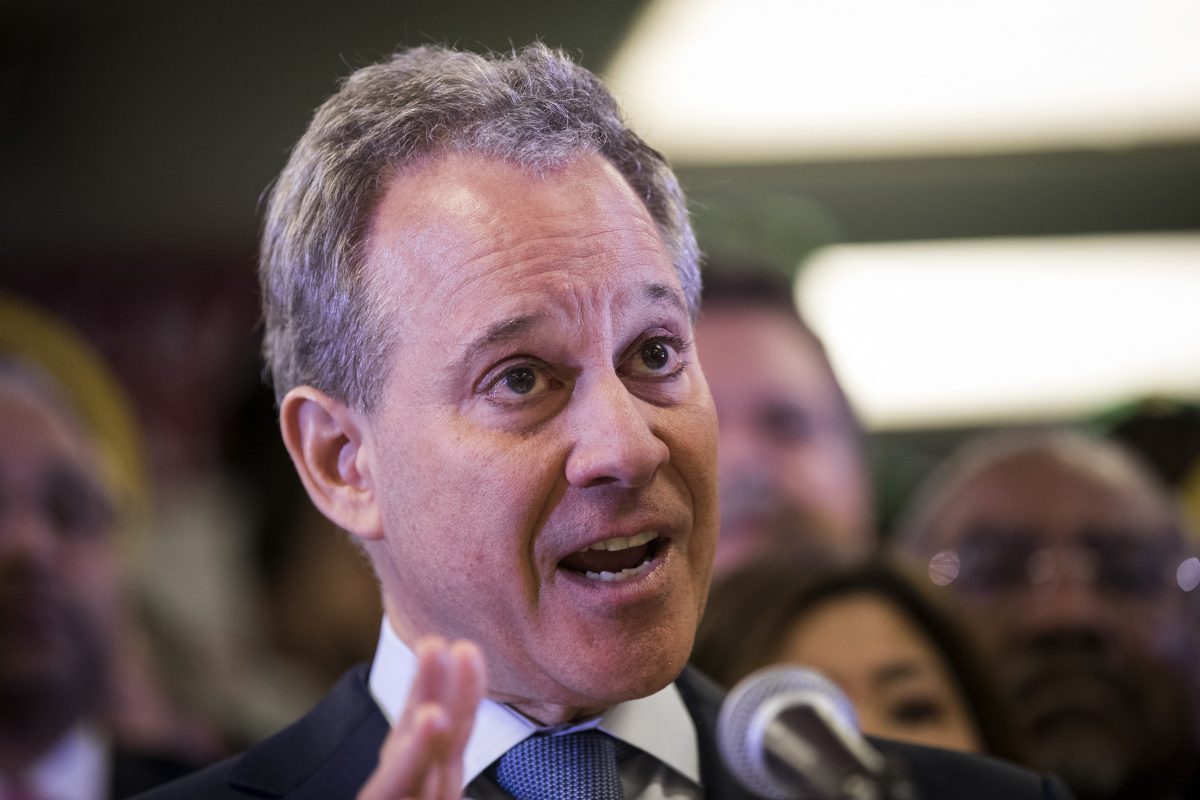 After a New Yorker report came out that featured assault allegations against now-former New York Attorney General Eric Schneiderman, President Donald Trump's son Donald Jr. shared a 2013 tweet from his father that indicated that Schneiderman might have some dark secrets. Now, we may know what he was referring to.
Weiner is gone, Spitzer is gone – next will be lightweight A.G. Eric Schneiderman. Is he a crook? Wait and see, worse than Spitzer or Weiner

— Donald J. Trump (@realDonaldTrump) September 11, 2013
Attorney Peter J. Gleason filed a letter in Manhattan federal court on Friday, asking for a protective order for any records of communications he had with Michael Cohen regarding two women who came to him with allegations that Schneiderman engaged in sexual misconduct with them. The first woman approached him in 2012, and he claims he told her that the justice system would sooner protect Schneiderman than help her. Then another woman came to him "sometime in 2013" with similar allegations.
Gleason says in his letter that he did not think it would be worthwhile to go to the Manhattan District Attorney's Office with the allegations, "based on my past experiences in reporting prima facie political corruption that was ignored by the office, some of which were ultimately prosecuted elsewhere."
Gleason claims that he talked to Stephen Dunleavy, a retired journalist, about the situation, and Dunleavy offered to talk to Trump about it. Gleason told Politico's Josh Gerstein that Dunleavy suggested going to Trump because he was in the middle of a legal battle with Schneiderman at the time over Trump University.
Then Gleason got a call from Cohen.
Gleason says that he talked to Cohen about the details of the women's cases, and while he doesn't know what kind of records Cohen kept of their communications, he's worried that the recent raid and current investigation of Cohen could reveal their identities. In the interest of maintaining their privacy, Gleason is asking Judge Kimba Wood to grant an order protecting "any and all records" regarding the matter.
It's unclear when Trump found out about these allegations against Schneiderman, or if it was before or after his September 2013 tweet, but it does seem to have been at some point that year.
Gleason went on to run against current Manhattan DA Cy Vance as a write-in candidate in 2017.
Note: This article has been updated with Gleason's explanation for why Dunleavy suggested going to Trump.
Gleason Letter on Scribd
[Image via Drew Angerer/Getty Images]
Have a tip we should know? [email protected]