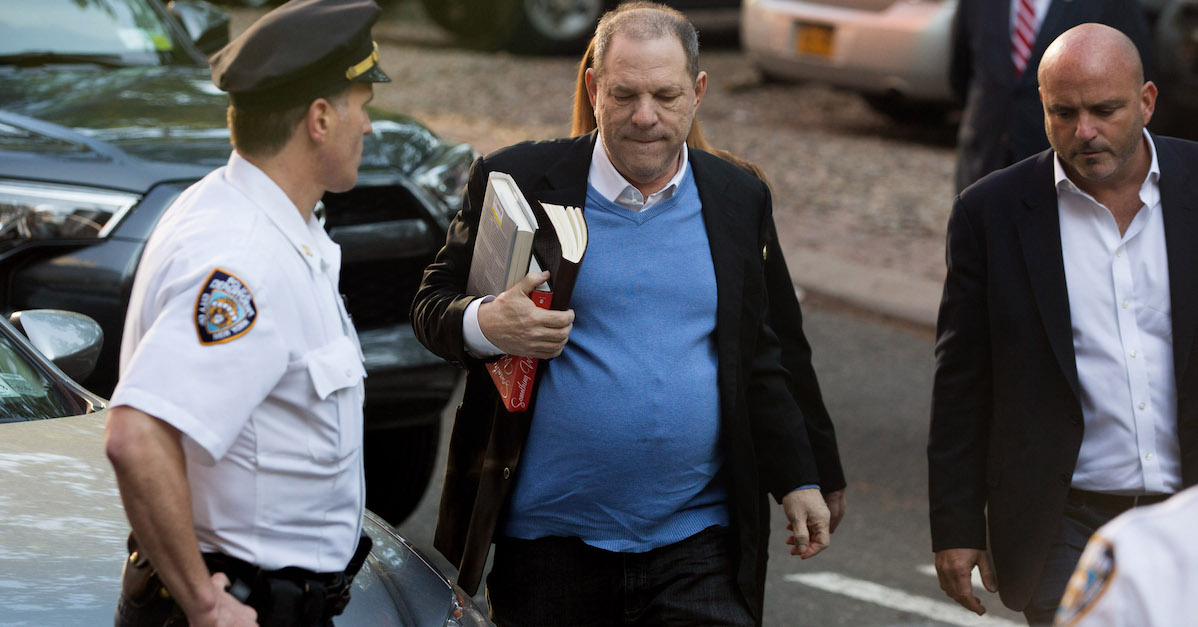 Disgraced movie mogul Harvey Weinstein turned himself in Friday to face sex crimes charges and pleaded not guilty to rape. Many instantly wondered about the books he carried with him to the police station.
Some saw something seriously sinister going on. New York Magazine's Yashar Ali, for example, responded to the Hollywood Reporter's story that one of the books Weinstein was carrying was Hollywood director Elia Kazan's biography.
"What a sick man… he knows what he's doing and the message he's trying to send," Ali said. "For years when people would discover his history of predation he would threaten them with their own secrets."
https://twitter.com/yashar/status/1000025344982700032
The Hollywood Reporter piece numbered Kazan among informants in Hollywood who "named names and derailed dozens of Hollywood careers" and "placed some 320 names on the Blacklist by the time the Red Scare finally died down in the late 1950s."
The interpretation is that Weinstein, although there were instances of people calling him out over the years (see: Seth MacFarlane), survived by amassing dirt on other people and using it to neutralize threats against him. In other words, Weinstein's jailhouse reading material about blacklisting is really about a subject some people think he already knows a lot about.
The New Yorker reports that Weinstein hired private investigators from the firm Black Cube. It describe them as an "army of spies" which would "collect information on the women and the journalists trying to expose the allegations" against Weinstein. Why would someone need that kind of intelligence? One reason would be to have ammunition that could be used to discredit claims.
It's also worth mentioning on the subject of blacklisting that Weinstein was accused of doing that by access Ashley Judd.
Judd filed a lawsuit claiming that after she rebuffed Weinstein's sexual advances, he retaliated against her by damaging her career.
"I lost career opportunity. I lost money. I lost status and prestige and power in my career as a direct result of having been sexually harassed and rebuffing the sexual harassment," she said in an interview with ABC News. "My career opportunities, after having been defamed by Harvey Weinstein, were significantly diminished. … My career was damaged because I rebuffed Mr. Weinstein's sexual advances. I know it for a fact."
Lord of the Rings director Peter Jackson has even said that Weinstein made him blacklist actresses, including Judd. Jackson also named Mira Sorvino.
Previously, Judd described harassment by Weinstein as "bargaining, this coercive bargaining."
Weinstein has denied any "allegations of non-consensual sex" in the past and his pleaded not guilty to rape charges after turning himself in.
Notably, Weinstein said in Oct. 2017 that said that the way he "behaved with colleagues in the past has caused a lot of pain, and I sincerely apologize for it. Though I'm trying to do better, I know I have a long way to go."
[Image via Kevin Hagen/Getty Images]
Have a tip we should know? [email protected]