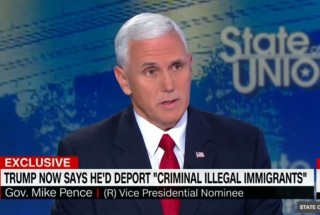 Much talk has been made over whether Donald Trump is easing up on his hard line stance on illegal immigration. Since early in his campaign, Trump has insisted that not only would he build a wall along the Mexican border to keep people from crossing illegally, but he'd also deport undocumented immigrants already in the country. Trump even described using a "deportation force" to send millions of people back to where they came from.
Last week, Trump's campaign manager, Kellyanne Conway, implied that Trump's policy was not set in stone. Conway said that whether Trump would use a deportation force was "to be determined."
On Sunday, however, Trump's running mate, Mike Pence, went on CNN's 'State of the Union' to set the record straight. "Nothing has changed about Donald Trump's position on dealing with illegal immigration," Pence told Jake Tapper.
"There will be no path to legalization, no path to citizenship," he added, "unless people leave the country."
However, Tapper pressed Pence about the use of a deportation force. "Is that policy still operative?" Tapper asked. Pence danced around any potential change by saying such a force "was a mechanism, not a policy." Pence went on to say that Trump will detail his policies in the coming weeks, but that the principle of his immigration policy will remain the same. He didn't say whether the "mechanism" of a deportation force would remain as well.
[Image via screengrab]
Have a tip we should know? [email protected]