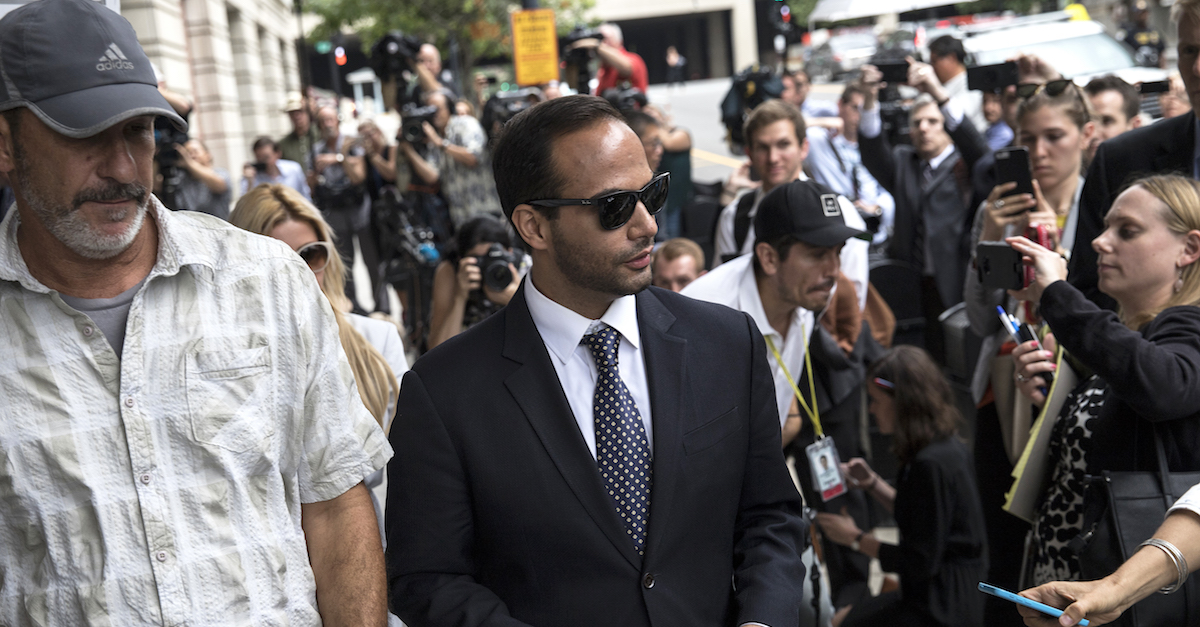 CNN anchor Jim Sciutto challenged former Trump foreign policy advisor George Papadopoulos on Twitter, as Papadopoulos attempts to stay out of jail. Sciutto asked Papadopoulos, who pleaded guilty to lying to the FBI, if he is withdrawing his past statements of remorse.
Papadopoulos did not answer the question.
First a little context behind the Sciutto-Papadopoulos exchange. Papadopoulos is hoping that his jail stint will be put on hold until former Roger Stone aide Andrew Miller's challenge of Robert Mueller's authority reaches a conclusion. Obviously, he's hoping that a judge says something like "Mueller is illegal" and that this will show Mueller never had the authority to prosecute him in the first place.
Papadopoulos tweeted Wednesday afternoon that he "NEVER" flipped against President Donald Trump, but actually "expose[d] the corruption of this 'investigation' for the world to see."
"Silence during these critical days was never an option," he added. "All must be exposed."
Papadopoulos has hired new lawyers in an attempt to stop his 14-day jail stint from starting as scheduled on Nov. 26. Mueller responded to that gambit on Wednesday, by saying the  "motion is made for purposes of delay, and he has not presented a substantial legal question that is likely to result in reversal."
In summary, Mueller said, Papadopoulos isn't appealing anything, he's asking the court to put off jail until a separate appeal reaches a conclusion. Even if Papadopoulos did file an appeal, Mueller also said, "the defendant's time to file any appeal expired on September 25, 2018, fourteen days after the entry of judgment."
In any case, Sciutto responded to Papadopoulos' Wednesday tweet, asking if he is withdrawing past statements of remorse.
"Hi @GeorgePapa19, you did however plead guilty to a crime and said, 'I made a terrible mistake. I hope to have a second chance to redeem myself.' Your lawyer said you were 'terribly ashamed'. Do you now withdraw those statements and that remorse?" he asked.
"At this point Jim, it's not about me. This is much bigger than just my case," Papadopoulos replied. "It's about the legacy of the entire investigation. When the FISA documents are unclassified, I expect the world to see what kind of surveillance abuse opposition campaigns were under during 2016-17."
"I just have a responsibility to inform America of the truth. Western intelligence had elaborate sting operations and or fake disinformation campaigns to make it seem like Trump and his associates were 'working with Russia,'" he added. "Exhibit A: Joseph Mifsud was always western intel."
Papadopoulos did not answer the question as to whether he has withdrawn his statements of remorse.
He said, "But, Jim, these types of comments you are making are beneath you and CNN."
Sciutto followed up by offering Papadopoulos air time.
Papadopoulos accepted the offer.
There has been speculation that Papadopoulos may have breached the terms of his plea agreement, but even if he has the special counsel may not bother spending additional resources on him.
Robert Mueller pointed out Wednesday that after Papadopoulos was sentenced "[George] made a variety of public statements that appear to be inconsistent with his stated acceptance of responsibility at sentencing." He also showed that he has been monitoring Papadopoulos' Twitter activity closely, including inflammatory tweets he has deleted.
[Image via Alex Wroblewski/Getty Images]
Have a tip we should know? [email protected]