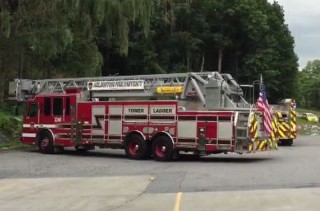 A decision by the Board of Fire Commissioners in Arlington, NY set off a blaze of controversy earlier this week. The Poughkeepsie Journal reported that after three fire trucks were adorned with American flags, the Board instructed Fire Chief Tory Gallante to take them down.
The flags had been placed on rear of the vehicles after union members requested it, but Fire Commissioner Chairman Jim Beretta told the Journal that no one consulted with the Board beforehand. Beretta said that the flags, which were secured to the backs of the trucks, were a "liability during normal operations for our people and other motorists." Gallante said that the flags had been "checked by our mechanics to make sure" they were secured in place. The public information officer for the Hughsonville Fire Department said that their trucks have flown flags since 9/11.
On Monday, Beretta told Gallante to remove them, and on Tuesday the flags were taken off the trucks. Union President Joseph Tarquinio was not pleased with the decision. "At the time when the country needs unity, to do something like this … it's next to flag-burning in my mind."
People on Twitter were pretty fired up too.
Just how is the American flag securely attached to the back of a fire truck b a liability? Arlington Fire Commissioners, answer that!

— Nelda McCoy (@nelda2345) August 17, 2016
What kind of country are we living in when we can't fly out own flag on a fire truck #arlington #rediculousness https://t.co/VkZ6o9y8Og

— DJ Tris Tiffany (@TrisTiffany) August 17, 2016
When American firefighters are told to take the flag off their fire truck it is no longer America, Arlington New York

— Jeff BRABANT Sutton (@foxy17111965) August 17, 2016
Beretta said on Wednesday that he has reached out to Gallante, offering to meet with him, "and whomever he wants," in order to reach a potential compromise.
Have a tip we should know? [email protected]