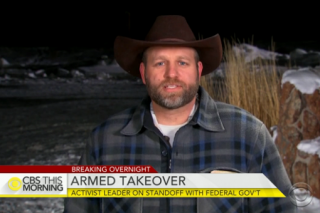 Ammon Bundy and his gang of 16 protesters, who staged a six-week armed occupation of the Malheur National Wildlife Refuge in Oregon, were arraigned in federal court on Wednesday.
Four of the defendants waived their appearance, with the intent to plead not guilty, while the others stood before a U.S. District Court judge. Bundy and his brother Ryan, along with Jon Ritzheimer, Joseph O'Shaughnessy, Ryan Payne, Brian Cavalier, Shawna Cox, Peter Santilli, Jason Patrick, Duane Leo Ehmer, Dylan Anderson, Sean Anderson, David Fry, Jeff W. Banta, Sandra Lynn Pfeifer Anderson, and Kenneth Medenbach were each charged with one felony count of conspiracy to impede officers of the United States.
Prosecutors may still file a superseding indictment with additional charges, according to Oregon's KOIN News.
The defendants claimed that the standoff was in protest of the imprisonment of ranchers who started fires that spread to federal lands near the refuge, as well as the federal government's control of millions of acres of public land. Most of the protesters were arrested on their way to a community meeting on January 26. Shots were fired, resulting in the injury of Ryan Bundy and the death of group spokesperson Robert "LaVoy" Finicum. The last four protesters surrendered on February 6, ending the standoff.
[h/t Reuters, screengrab via CBS News]
Have a tip we should know? [email protected]