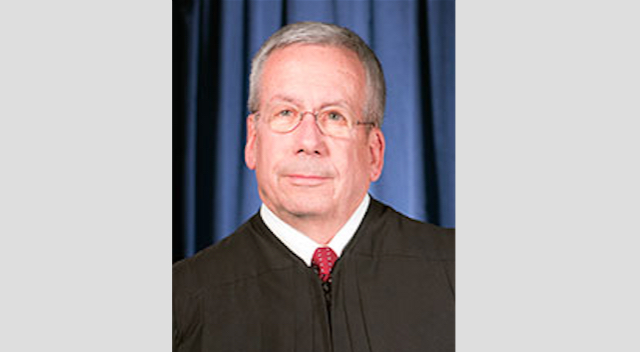 A few days ago a multi-racial group of Cleveland Browns players kneeled during the national anthem before a preseason game against the New York Giants. This marked the first time a white NFL player joined the protest popularized by former San Francisco 49ers quarterback Colin Kaepernick.
The occasion was tailor-made for the history books, but one Ohio Supreme Court justice used the opportunity to chime in on the side of conservative reaction and political correctness.
Justice William O'Neill unleashed a furious rant on his personal Facebook page, accusing the 12 knee-taking Browns players of being "draft dodging millionaires" who disrespected the veterans "who earned them the right to be on that field." He wrote, "Unfortunately my season ended last night … Shame on you all."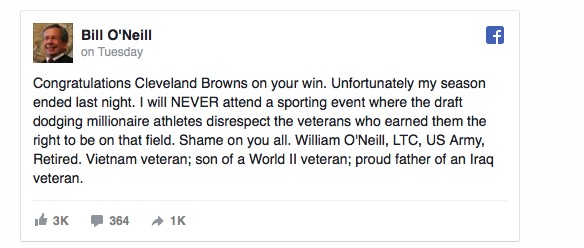 Forced conscription into the United States military was ended in 1973–so it's hard to understand what the justice means here.
Linebacker Christian Kirksey, who led the prayer, said:
"We did it out of respect. No disrespect for anyone, we just felt like it was the right time and the need to do it."
Tight-end Seth DeValve, the first white player to join the racial justice protest is married to an African-American woman. He said, "I myself will be raising children that don't look like me, and I want to do my part as well to do everything I can to raise them in a better environment than we have right now. So I wanted to take the opportunity with my teammates during the anthem to pray for our country and also to draw attention to the fact that we have work to do."
O'Neill himself served in Vietnam. And, his Facebook tirade noted, one of his parents served in World War II while one of his children served in the Iraq War.
As for the Browns, they won their game that night.
[image via Ohio Supreme Court]
Follow Colin Kalmbacher on Twitter: @colinkalmbacher
Have a tip we should know? [email protected]