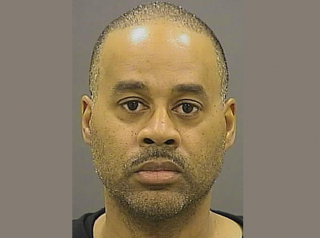 Officer Caesar Goodson, the driver of the van that transported Freddie Gray when he suffered injuries that led to his death, was found not guilty of second degree depraved heart murder, as well as lesser charges, on Thursday. Judge Barry Williams made the decision after a bench trial where he alone decided the case, because Goodson opted not to have his case heard by a jury.
Gray sustained his fatal injuries while riding in the back of a police vehicle while handcuffed and not buckled in with a seat-belt. Prosecutors argued that Goodson's failure to secure his passenger, even after stopping several times on the way to the police station, and his driving, caused Gray's death.
Defense attorneys argued that Goodson did not drive recklessly, and that Gray caused risk for himself by moving around in the back of the van.
Goodson was the only officer charged with murder in this case, with other officers facing lesser charges. Previously, Officer William Porter faced a trial that ended in a hung jury and he now awaits a second trial. Officer Edward Nero was acquitted of assault, reckless endangerment, and misconduct.
Three other officers have yet to face trials. The trial for Officer Brian Rice, who is charged with manslaughter and assault, is next, scheduled to begin on July 5.
Update 6/23/16 1:40pm: A transcript of the court hearing gave some insight into Judge Williams' reasoning for the verdict. Judge Williams said that prosecutors failed to establish exactly when Gray's injuries occurred. Goodson made several stops while Gray was in the back of the van, but did not take Gray for medical treatment until the sixth and final stop.
Judge Williams was not convinced that Goodson was aware that Gray required immediate medical attention before then. He said that the prosecution failed to prove beyond a reasonable doubt "that Mr. Gray was in need of medical treatment between stops 2 and 5 and that the defendant, or an officer similarly situated, would have or should have known that Mr. Gray was necessarily in need of medical treatment."
Williams also said, "the Court finds that there is insufficient evidence that the defendant gave or intended to give Mr. Gray a 'rough ride,' referring to the prosecution's theory that Goodson intentionally drove in a manner that led to Gray's injuries.
Have a tip we should know? [email protected]