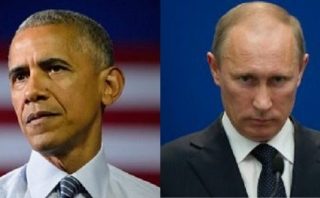 Thursday afternoon, the Obama administration announced actions that they are taking against Russia in response to Russian hacking of political organizations prior to November's presidential elections. In retaliation for the hacking, the U.S. State Department has declared 35 Russian diplomats persona non grata, meaning they have 72 hours to leave the U.S.
Additionally, the U.S. is denying Russian access to two compounds in New York and Maryland, and are imposing sanctions on five Russian government operations and six Russian nationals.
According to the U.S. State Department, the actions are in response to more than just hacking, but also other problematic Russian activity. In a statement obtained by LawNewz.com, the State Department said:
The Department took these actions as part of a comprehensive response to Russia's interference in the U.S. election and to a pattern of harassment of our diplomats overseas that has increased over the last four years, including a significant increase in the last 12 months. This harassment has involved arbitrary police stops, physical assault, and the broadcast on State TV of personal details about our personnel that put them at risk.
When federal officials discovered that the computer network of the Democratic National Committee was hacked earlier this year, some individuals close to the investigation believed that Russian actors connected to that country's government were behind it, but government agencies were hesitant to definitively point any fingers. Earlier in December, President Obama requested an intelligence report of possible Russian interference with the election. Now, he's decided it's time to hold Russia accountable.
It remains to be seen what repercussions the American response will bring. Moscow could certainly expel the U.S. ambassador, but beyond that, only time will tell. The Kremlin told CNN that they intend to take measures similar to what the U.S. announced today, but specifics remain unclear.
The Russian embassy in the UK tweeted displeasure towards the U.S. action, likening it to when the relationship between the U.S. and Russia was far worse.
President Obama expels 35 🇷🇺 diplomats in Cold War deja vu. As everybody, incl 🇺🇸 people, will be glad to see the last of this hapless Adm. pic.twitter.com/mleqA16H8D

— Russian Embassy, UK (@RussianEmbassy) December 29, 2016
Still, removal of certain diplomats is not the same as cutting off all diplomatic ties, as ForeignPolicy.com points out. Obama's order, while significant, did not call for the dismissal of all Russian diplomats, just specific individuals. Expulsion of diplomats happens all over the world, for reasons including disagreement with a country's policies, antagonistic actions such as the ones Russia is accused of here, or even problems with an individual ambassador. In one case, a U.S. ambassador to Venezuela was expelled, only to return the following year.
LawNewz.com will provide more information on this matter as details become available.
[Images via Shutterstock]
Have a tip we should know? [email protected]