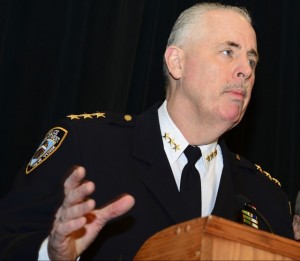 New York City police say teen Destiny Garcia confessed to killing her mother and her mother's boyfriend. She alleged that her mother physically abused her.
At first, the teen said mom, 38-year-old Rosie Sanchez, stood by while her boyfriend, 40-year-old Anderson Nunez, sexually abused Garcia. Then Garcia changed her story and flipped their roles—mom beat her while the boyfriend did nothing.
"She said basically it was the mother that actually was abusive to her, physically abusive to her, in the past," said Robert Boyce, the NYPD's Chief of Detectives. "We don't believe this was at all an act of self-defense. She went and got a gun from another individual that we're trying to find right now, to commit the homicide."
Cops believe the gun supplier was another 15-year-old, a boy, who may have helped murder the couple.
Sanchez was shot and stabbed while Nunez was stabbed at Sanchez's Brooklyn apartment, where she lived with her daughter. Garcia allegedly left their bodies to rot from Dec. 28 until they were discovered Sunday—January 3rd, a couple of days after the teen partied at Times Square. That sounds like capital-H hate.
Cops are charging Garcia as an adult with two counts of second-degree murder and two counts of criminal possession of a weapon.
[via The New York Daily News]
[image of Robert Boyce via Shutterstock]
–
>> Follow Alberto Luperon on Twitter (@Alberto Luperon)
Have a tip we should know? [email protected]