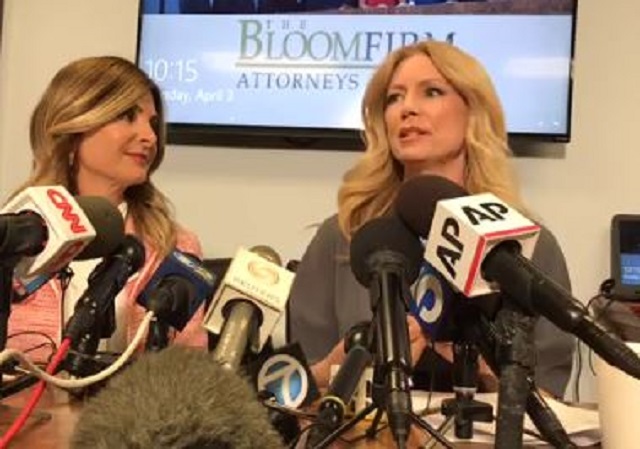 Dr. Wendy Walsh, one of the women accusing Bill O'Reilly of sexual harassment, held a press conference on Monday with her attorney, Lisa Bloom. At the conference, Walsh discussed allegations of sexual harassment by the Fox News host.
Walsh, a psychologist, made regular appearances as a guest on "The O'Reilly Factor" as a human behavior expert discussing relationships. She said she hoped that her weekly segments would lead to a paid contributor position at the network. She recalls how three weeks into her stint, O'Reilly invited her to dinner at a Los Angeles hotel, and she happily went, thinking it was about a job offer. O'Reilly said early in the dinner that he wanted Walsh to become a paid contributor for Fox News, and that then-CEO Roger Ailes liked her and would likely be on board.
Walsh said that after dinner, however, O'Reilly asked her to go up to his hotel suite. Walsh responded by saying, "I'm sorry, I can't do that." Instead, they went to the hotel bar, where O'Reilly became hostile, she said, and told her to "forget any career advice I gave you."
Walsh said that she continued to be friendly to O'Reilly in professional settings, but that he would act coldly towards her. Eventually, her regular segments on the show were canceled, and she never got the contributor position.
Going public with these allegations wasn't her idea, Walsh said. She only came forward after a reporter kept contacting her, and informed her that there were a number of women with similar experiences who couldn't speak publicly because they accepted settlement agreements that kept them from talking. Fox and O'Reilly have paid $13 million to five different women. Walsh never signed any agreement with Fox.
"Nobody can buy my voice … my truth is not for sale," she said. Walsh said she's speaking out so that other women will learn that they should report harassment in the workplace.
Walsh said this isn't about money or revenge, and isn't looking for Fox to fire O'Reilly. "I don't care what they do with him," she said. Bloom said that Walsh is not bringing a lawsuit, since the allegations are too old to do so."I didn't know that you can be sexually harassed if you are a job applicant," Walsh explained, saying she thought the law required that someone already be an employee. Walsh did say she is willing to participate in any investigation into Fox or O'Reilly.
As far as working at Fox in the future, Walsh said she'd love to, but only if they weren't "toxic" and if they treated women better.
Bloom discussed Fox's response to the allegations, which is that ratings went down during Walsh's segments, which is why she didn't get the contributor job. "It's an absurd claim," Bloom said, mocking the notion that people turned off Fox News as soon as Walsh opened her mouth. Bloom said that if Fox or O'Reilly continue to verbally attack Walsh, she could then sue based on those attacks.
"No company in America has the right to normalize sexual harassment, and that includes Fox News," Bloom stated.
O'Reilly addressed the multiple allegations against him that were reported by The New York Time in a statement posted on his website. He said, "In my more than 20 years at Fox News Channel, no one has ever filed a complaint about me with the Human Resources Department, even on the anonymous hotline."
In response to a question about O'Reilly's statement, Bloom said that Walsh couldn't file a complaint with Human Resources because she wasn't an employee. Bloom also said that despite O'Reilly's denial that anyone has ever filed a complaint against him, she has not seen any denial of Walsh's specific allegations.
[Image via screengrab]
Have a tip we should know? [email protected]