With all the news in the last 24 hours about President Donald Trump's "extreme vetting" executive order that he signed late Friday, there has been lots of confusion about what happened. Added to the confusion is the fact that a federal judge signed an emergency order late Saturday night that partially stopped the enforcement of a very small part of Trump's executive action. Contrary to the confusing headlines, including this one from The New York Times, a judge didn't put a stop to the majority of Trump's executive order.
In fact, civil rights attorneys believe Judge Ann Donnelly's emergency action will only impact about 100 to 200 people. The order does allow those already at the airport to stay in the United States, pending more litigation in the case. There is also a separate order from a judge in Virginia stopping the removal of any green card holders from being detained at Dulles International Airport.  However, the bottom line is that, as of this moment, the majority of Trump's sweeping executive action that potentially affects million of refugees and immigrants remains in place.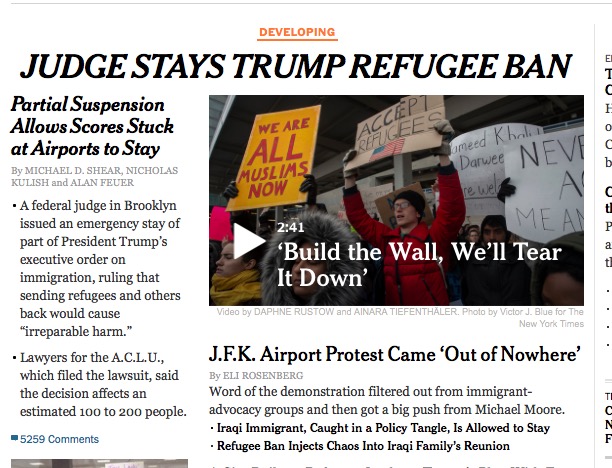 "A federal judge on Saturday night issued a limited order precluding deportations of those individuals already present in the country who had already been approved for visas. This was misunderstood as a 'stay' of Trump's entire executive order on immigration. It is not," attorney Robert Barnes explained to LawNewz.com. 
Trump's executive order bars citizens of seven Muslim majority countries including Iraq, Syria, Iran, Libya, Somalia, Sudan and Yemen. Trump also stopped the entrance of all refugees from any country for 4 months.
On Saturday, two Iraqi men, who were being detained at J.F.K airport after Trump's executive order was signed, filed a petition for emergency relief with the federal court. The two men had already been approved for visas prior to them arriving in the United States, in addition they were were granted refugee status due to their family's association with the United States military.
In her emergency order filed Saturday night, U.S. District Judge Ann M. Donnelly wrote the U.S. Government is enjoined and restricted from:
[R]emoving individuals with refugee applications approved by U.S. Citizenship and Immigration Services as part of the U.S. Refugee Admission Program, holders of valid immigration  and non-immigration visas, and other individuals from Iraq, Syria, Iran, Sudan, Libya, Somalia, and Yemen legally authorized to enter the United States.
As you see from Donnelly's language, her order applies to "holders of valid immigration visas" and other already "legally authorized" to enter the United States. So all of the thousands of people from countries like Syria who are still in the process of obtaining visas will still be barred form entering the United States. This also seems to apply to citizens from the seven majority Muslim countries.
"Everyone now who came is safe, and that is absolutely critical. The courts worked the way they're supposed to work in our country," Lee Gelernt, Deputy Legal Director for the ACLU's Immigrants Rights Project, told MSNBC. "The president could not override the courts."
"Bottom line, applying the executive order to lawful permanent residents should be unconstitutional.  And I would argue those who had valid visas have an argument for admission.  Future visas might not be issued under the Executive Order," Professor Lenni Benson, an immigration expert at New York Law School said.
Late Saturday night, the Department of Homeland Security issued a statement confirming that they will continue to enforce Trump's executive order:
President Trump's Executive Orders remain in place—prohibited travel will remain prohibited, and the U.S. government retains its right to revoke visas at any time if required for national security or public safety. President Trump's Executive Order affects a minor portion of international travelers, and is a first step towards reestablishing control over America's borders and national security.

Approximately 80 million international travelers enter the United States every year. Yesterday, less than one percent of the more than 325,000 international air travelers who arrive every day were inconvenienced while enhanced security measures were implemented. These individuals went through enhanced security screenings and are being processed for entry to the United States, consistent with our immigration laws and judicial orders.
Judge Donnelly did not rule on the constitutionality of Trump's executive action. However, she did give some optimism to civil rights advocates who are hoping a court will ultimately stop the enforcement of Trump's entire action.
"The petitions have a strong likelihood of success in establishing that the removal of the petition and others similarly situated violates their right to Due Process and Equal Protection guaranteed by the United States Constitution," Judge Donnelly wrote. This order has a long road ahead in the federal court. Stay with LawNewz.com for all of the updates and legal analysis.
[image via screengrab via The New York Times]
Have a tip we should know? [email protected]
Rachel Stockman - President / On Air Host