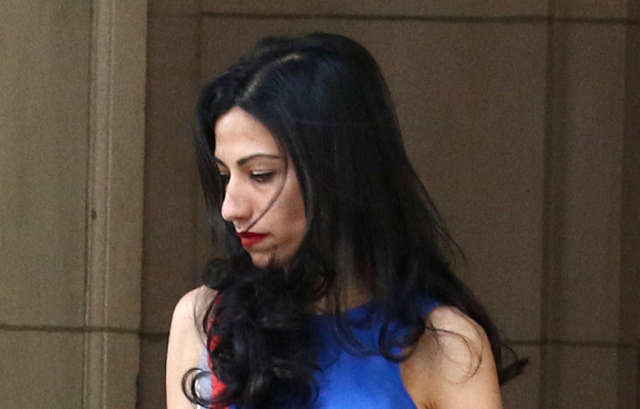 Watchdog group Judicial Watch released more than 1,600 pages of documents on Tuesday, including emails of former Hillary Clinton deputy chief of staff Huma Abedin, which they received from the State Department as part of their lawsuit seeking records related to a Freedom of Information Act lawsuit. The case had dealt extensively with the use of private, unsecured email accounts for the transfer of classified government information by Clinton and her aides. The new records included 91 email conversations involving Clinton that the former Secretary of State had not previously turned over.
Among the emails were a number of messages involving information that either had been or were later marked classified, which had previously been withheld after Judicial Watch's initial FOIA request, under FOIA exemption B1.4(D), which pertains to foreign relations and activities. Those documents included a memo about Northern Ireland and details regarding a call between the Chinese Foreign Minister and State Department officials.
In one situation, then-executive assistant Joseph MacManus had an email conversation with Abedin regarding a classified document, and he refused to send it over the unsecured server. "The draft paper is classified so it cannot go by Blackberry email," MacManus said.
The emails also contained evidence of possible pay-to-play, including an executive who was a big donor to the Clinton Presidential Library pushing for someone else to be named Ambassador to the Dominican Republic. The request was made to Abedin through Clinton Foundation executive Doug Band. It is not clear whether or not this person received an ambassadorship because the name was redacted in the email.
Another email chain involved a request by Howard Buffett Jr. (grandson of Warren Buffett), for his father Howard Sr. to have a meeting with Clinton to discuss food security in Africa. The Buffetts, through the Susan Buffett Foundation, are known donors to the Clinton Foundation and the Clintons themselves. Bill Clinton aide Ben Schwerin forwarded the request from Buffet Jr. to Abedin, who responded, "we will take care of this."
Tom Fitton, president of Judicial Watch, is calling for the Justice Department to reopen their investigation of Clinton, which came to a close right before November's presidential election. "Pay to play, classified information mishandling, influence peddling, cover ups – these new emails show why the criminal investigation into Hillary Clinton's conduct must be resumed," Fitton said in a statement. "The Trump Justice Department and FBI need to reassure the American people they have finally stopped providing political protection to Hillary Clinton."
LawNewz.com reached out to the DOJ, but a spokesperson said, "The Department of Justice does not generally confirm, deny, or otherwise comment on the existence of an investigation."
Note: This article has been updated with the Justice Department's response, as well as more information about the ambassadorship and play for play allegations, including an additional email chain.
[Image via JStone/Shutterstock]
Have a tip we should know? [email protected]