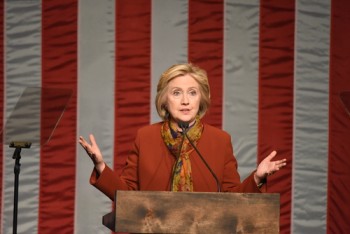 The government watchdog group Judicial Watch just released additional State Department materials uncovered during the FBI probe into Hillary Clinton's use of a private server.  If you recall, the FBI said it found additional work-related emails on Clinton's server that had not been turned over to the State Department.  Some of the emails released on Wednesday appear to provide evidence of direct communications between Clinton and her top IT specialist, Bryan Pagliano. Why does this matter? It calls into question Clinton's sworn answers to interrogatories filed in federal court just last week.
Earlier this year, a federal district court judge ordered Clinton to answer a set of interrogatories (questions) from Judicial Watch as part of a Freedom of Information Act lawsuit.  Answers to interrogatories are written under oath, thereby subjecting an individual to potential perjury charges for providing false answers.
One interrogatory sought information about "any communications between [Clinton] and Brian Pagliano concerning or relating to the management . . . of any emails in your clintonemail.com email account."
Clinton's response to that interrogatory states, in part, "Secretary Clinton states that she does not recall having communications with Bryan Pagliano concerning or relating to the management . . . of any e-mails in her clintonemail.com email account."
After receiving Clinton's sworn response, Judicial Watch received several emails that they say raises questions about Clinton's response.
For example, one email, from the FBI, appears to show Hillary Clinton (H) reaching out to Pagliano via email to ask for help with programs she was having with her Blackberry email system  — which records show was connected to her private server.
From: H

Sent: Sunday, March 18, 2012 8:45 AM

To: Justin Cooper, Bryan Pagliano [Cooper was a senior advisor to Bill Clinton]

Cc: Oscar Floras [manager of Clinton's New York home]

Subject: Help!

Once again, I'm having BB trouble. I am not receiving emails although people are getting ones I send but I get their replies on my IP. I've taken out the battery and done what I know to do but with no luck yet any ideas?
Judicial Watch found several other similar emails in the latest release and they can be viewed HERE.
"These new emails leave little doubt that Hillary Clinton was less than forthright and misled the public when she wrote, under oath, that she 'couldn't recall' communicating with Bryan Pagliano about her email scheme," Judicial Watch President Tom Fitton said in a statement obtained by LawNewz.com. "No wonder Clinton and her agents deleted these emails time and time again. And these smoking gun emails would never have seen the light of day but for Judicial Watch's federal lawsuits."
LawNewz.com also asked Mr. Fitton if Judicial Watch planned to raise the apparent discrepancy in Clinton's sworn answers to  interrogatories and the evidence in the newly uncovered emails next time they are before the Court.
Mr. Fitton did not offer any specifics, except to say, Judicial Watch "continue[s] to evaluate our next steps."
Have a tip we should know? [email protected]