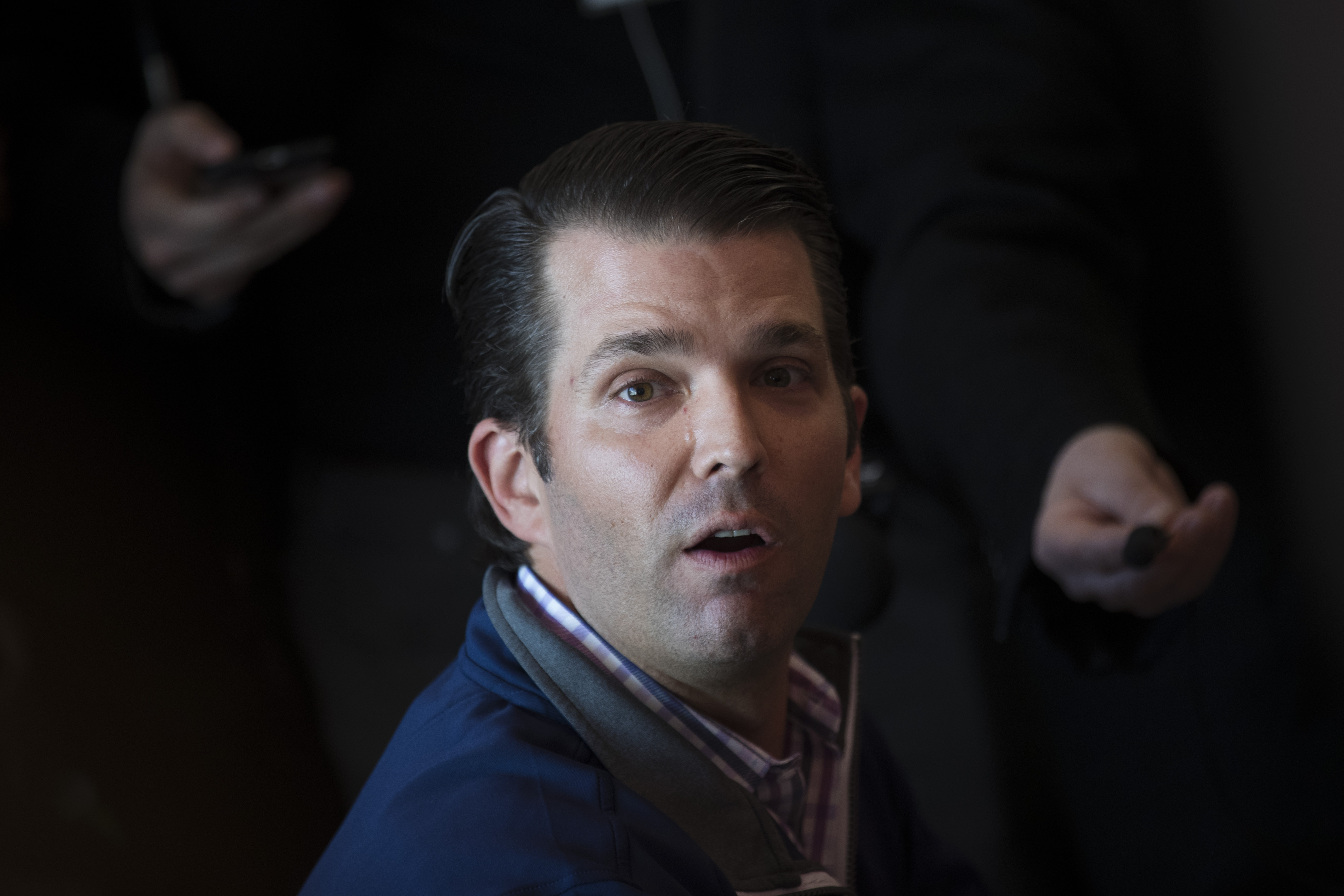 An email sent to one of the eight participants in the infamous Trump Tower meeting with Russian lawyer Natalia Veselnitskaya accuses Donald Trump Jr. of "admitting to collusion."
Released in a tranche of documents by the Senate Judiciary Committee on Wednesday morning, the release of this email in particular is likely to further ignite already-existing inquiries into the younger Trump's knowledge of alleged Russian collusion with the Trump 2016 campaign during the presidential election held that same year.
The sender of the email in question is redacted. The email was sent to and apparently received by Irakly "Ike" Kaveladze, a native of the Republic of Georgia and an employee of Russian billionaire Aras Agalarov. Kaveladze was previously interviewed by special counsel Robert Mueller over his attendance at the June 9, 2016 meeting.
Aside from Trump Jr.,Veselnitskaya and Kaveladze, the other participants at that meeting included: eventual presidential son-in-law Jared Kushner, former Trump 2016 campaign chair Paul Manafort, Russian lobbyist Rinat Akhmetshin, publicist Rob Goldstone and a Russian translator.
The email was sent on Tuesday, July 11, 2017 at 8:50 a.m. and was addressed to "Ike Kaveladze." The subject line reads: "dt jr"–an obvious reference to Donald Trump Jr.
The email also contains an attachment of a PDF file apparently containing a screenshot of a JPEG image. The controversial email reads, in full:
Why did he release this e-mail admitting to collusion?
As mentioned above, the sender of the email was blacked out by government censors. The email also purports to be sent "on behalf of" another redacted name. It does not appear to be the case, however, that this additional redacted name belongs to any particular third party.
Over the course of the 82-page document dump, multiple emails sent by multiple people–including those in attendance at the Trump Tower meeting and those not in attendance–use a construction whereby the emails are purportedly sent "on behalf of" the original senders. In other words, the sender of the email in question appears to be mentioned twice simply due to formatting issues.
One such sender whose emails utilize this construction is British publicist Rob Goldstone. Per the ordering of the Senate Judiciary Committee's release, the email(s) included before and after the "admitting to collusion" email were both sent by Goldstone.
The email appearing sequentially before the "admitting to collusion" email appears to be addressed to Kaveladze (the actual email address of the recipient is blacked out but "Ike" appears next to the redaction. This email contains a statement drafted by Trump attorney Alan Futerfas attributable to Goldstone. This prepared statement backs up Donald Trump Jr.'s original story regarding the Veselnitskaya-Trump Tower meeting. This email is dated Monday, July 10, 2017.
The emails appearing sequentially after the "admitting to collusion" email contain correspondence between Goldstone and Trump Jr. In this brief back-and-forth, Goldstone begins:
Good morning

Emin Just called and asked me to contact you with something very Interesting.

The Crown prosecutor of Russia met with his father Aras this morning and In their meeting offered to provide the Trump campaign with some official documents and Information that would Incriminate Hillary and her dealings with Russia and would be very useful to your father.

This is obviously very high level and sensitive information but is part of Russia and its government's support for Mr. Trump – helped along by Anis and Emin.

What do you think is the best way to handle this information and would you be able to speak to Emin about It directly?

I can also send this info to your father via Rhona, but it is ultra sensitive so wanted to send to you first.
Trump Jr. writes back approvingly, "Thanks Rob I appreciate that. I am on the road at the moment but perhaps I just speak to Emin first. Seems we have some time and if it's what you say I love it especially later In the summer. Could we do a call first thing next week when I am back?"
Beginning on June 3, Goldstone writes back on June 6, "Let me know when you are free to talk with Emin by phone about this Hillary info – you had mentioned early this week so wanted to try to schedule a time and day Best to you and family Rob Goldstone."
Law&Crime reached out to Rob Goldstone for comment and clarification, but no response was forthcoming at the time of publication.
[image via Drew Angerer/Getty Images]
Follow Colin Kalmbacher on Twitter: @colinkalmbacher
Have a tip we should know? [email protected]