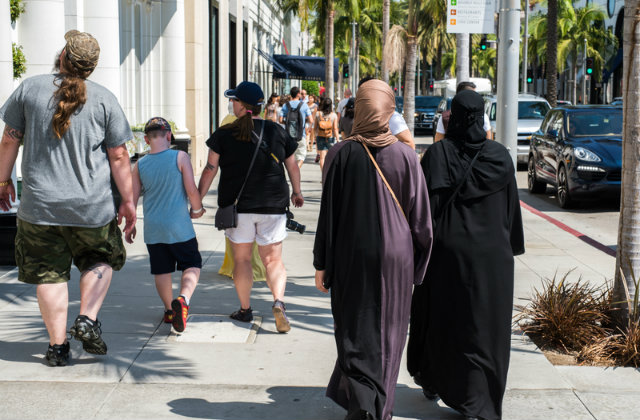 California just enacted a law that stops cities and counties from participating in a "Muslim registry." Senate Bill 31, signed Sunday by Gov. Jerry Brown, stops local and state agencies from giving the federal government information on people's personal religion for a database used in law enforcement or immigration purposes. "Religious belief, practice, or affiliation, national origin, or ethnicity"–authorities simply can't give the feds this kind of data if it's meant for this kind of registry. No single religion is named in the bill, but author Sen. Ricardo Lara (D-Bell Gardens) made clear that it is designed with Islamophobia in mind.
California will never assist in violating people's constitutional right to freedom of religion #SB31#Fight4CAfreedom https://t.co/YQwt2bCn4a pic.twitter.com/BbKtsPImYs

— Ricardo Lara (@senricardolara) October 16, 2017
The president's statements about a possible Muslim registry have not been consistent. When he was asked in November 2015 if he'd implement one, then-candidate Trump said yes.
"Oh, I would certainly implement that," he said, talking about it context of his immigration policy. He later added, "The key is people can come to the county, but they have to come in legally."
Next month, he pretty much called for an outright muslim ban into the United States.
Reuters reported in November that Kansas Secretary of State Kris Kobach said Trump's immigration policy team planned to recommend that Trump reinstate the National Security Entry-Exit Registration System (NSEERS). This program—which ran from the Bush Administration in 2002 to the middle of the Obama Administration in 2011—put visitors and immigrants to the U.S. on a database if they came from countries with extremist organizations.
In January, Trump signed an Executive Order temporarily stopping travel from seven Muslim-majority countries. It faced stiff fights in courts in numerous lawsuits, and has been blocked by quite a few courts. Civil rights organizations suing Trump often argue that campaign statements showed that "travel bans" were designed with Muslims in mind. This violated the First Amendment. The government insists this does not target people based on religion. This policy is currently in its third revision, featuring countries like Chad, Iran, Libya, Somalia, Syria, and Yemen. It also affects North Korea as well as some Venezuelan government officials and immediate family members. Both nations are decidedly not Muslim-majority. The new travel ban is scheduled to go into effect Wednesday, but lawsuits were filed earlier this month to stop it. A federal judge heard once such complaint in Maryland on Monday, but didn't make a decision.
A law enforcement database based on religious information would no doubt face First Amendment challenges in court.
[image via Michael Gordon and Shutterstock]
Have a tip we should know? [email protected]