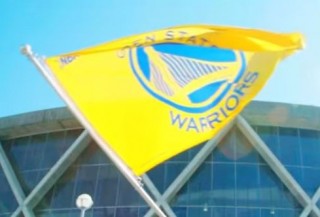 A smart phone user who downloaded the official app for an NBA team has filed a lawsuit in federal court, claiming that it invades privacy. LaTisha Satchell alleges that the Golden State Warrior's activates the microphone on the device that uses it, recording everything that goes on around it. Satchell says that she used the app from April to July 2016.
The app, which provides scores, statistics, highlights, and other features, does a whole lot more, according to the complaint. The lawsuit says that the Warriors teamed with Signal360, which provided beacon technology that allows the app to track users "and how they interact with marketing and advertisements." When the app detects a beacon, it can send information to Signal360 or show an ad to the user. The app allegedly listens for beacons by activating the phone's microphone, and then "records all audio within range — including consumer conversations" (emphasis in original).
The complaint says that any time the app is running, it is listening and recording, without informing the user. As a result, it alleges that the Warriors, app developer Yinzcam, and Sonic Notify, Inc. (doing business as Signal360), violated the  Electronic Communications Privacy Act (18 U.S.C. §§ 2510-2522), which prohibits interception of oral, wire, or electronic communication.
Ars Technica investigated the technology behind the app. Andrew Blaich, a researcher for security firm Lookout, confirmed that the app has the technology to record audio, but that it "is controlled by the provider of the beacon technology. Blaich could not determine whether the recording ability was being utilized at the time the lawsuit was filed, but that the beacon technology provider could "easily" configure the app to record audio.
The complaint includes a screenshot of the app that shows a list of what parts of the phone the app needs to access in order to function. The image does show that the app requests permission to use the phone's microphone, but it does not say anything about recording. It simply says "Use the device's microphone(s)." According to Ars Technica, the microphone's permission description now includes "record audio."
Satchell is seeking class action status, to represent other app users. LawNewz.com has reached out to the Warriors, who said that they do not comment on pending litigation.
Satchell vs Sonic Notify Complaint
Have a tip we should know? [email protected]