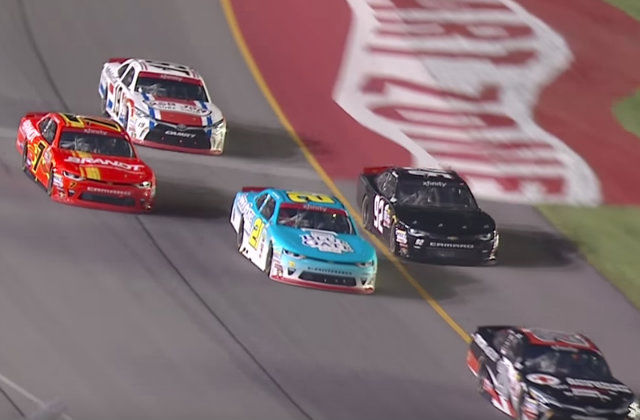 Some athletes have taken to kneeling during the national anthem in such sports as baseball, soccer, basketball, and mostly notably, football. But maybe not in race car driving. Some NASCAR honchos are threatening to fire employees who participate in that kind of protest.
"Get you a ride on a Greyhound bus when the national anthem is over," team owner Richard Childress told reporters, according to USA Today. "I told them anyone who works for me should respect the country we live in. So many people have gave their lives for it. This is America."
Richard Petty, a team owner and former racing champ, made a similar threat.
"Anybody that don't stand up for that ought to be out of the country. Period," Petty said. "If they don't appreciate where they're at … what got them where they're at? The United States."
But it's a team by team basis, however. Walt Czarnecki, executive vice president of Penske Corp., said his team has no policy on the matter, and they didn't expect to see any of their people kneel. Chip Ganassi, another team owner, said he liked how Pittsburgh Steelers coach Mike Tomlin handled it: While most of Tomlin's players stayed inside the locker room during the anthem on Sunday's game, he was on the field.
This comes after the pointed response to President Donald Trump's speech on Friday.
"Wouldn't you love to see one of these NFL owners, when somebody disrespects our flag, to say, 'Get that son of a bitch off the field right now. Out. He's fired. He's fired!'" Trump said at a campaign speech for Alabama Senator Luther Strange.
Well, multiple NFL team owners, including Trump friend and Patriots CEO Robert Kraft, issued statements on Sunday defending players' right to kneel during the national anthem. On Sunday, players from the Denver Broncos, Buffalo Bills, New England Patriots, Miami Dolphins, Detroit Loins, Tampa Bay Buccaneers, Baltimore Ravens, and Jacksonville Jaguars knelt during the anthem. They were supported by teammates and opposing player who chose to remain standing, armed linked to together. Every single player from the Steelers, except one, didn't even take the field during the anthem. The Seattle Seahawks and Tennessee Titans followed suit.
The protest started with former San Francisco 49ers quarterback Colin Kaepernick, who was opposing police brutality against communities of color. Critics like Childress and Treasury Secretary Steve Mnuchin say this disrespects military service members. Proponents, like Oakland Athletics catcher Bruce Maxwell, whose father served in the Army, insists kneeling does no such thing, and this is instead about bringing more attention to injustices.
[Screengrab via NASCAR]
Have a tip we should know? [email protected]