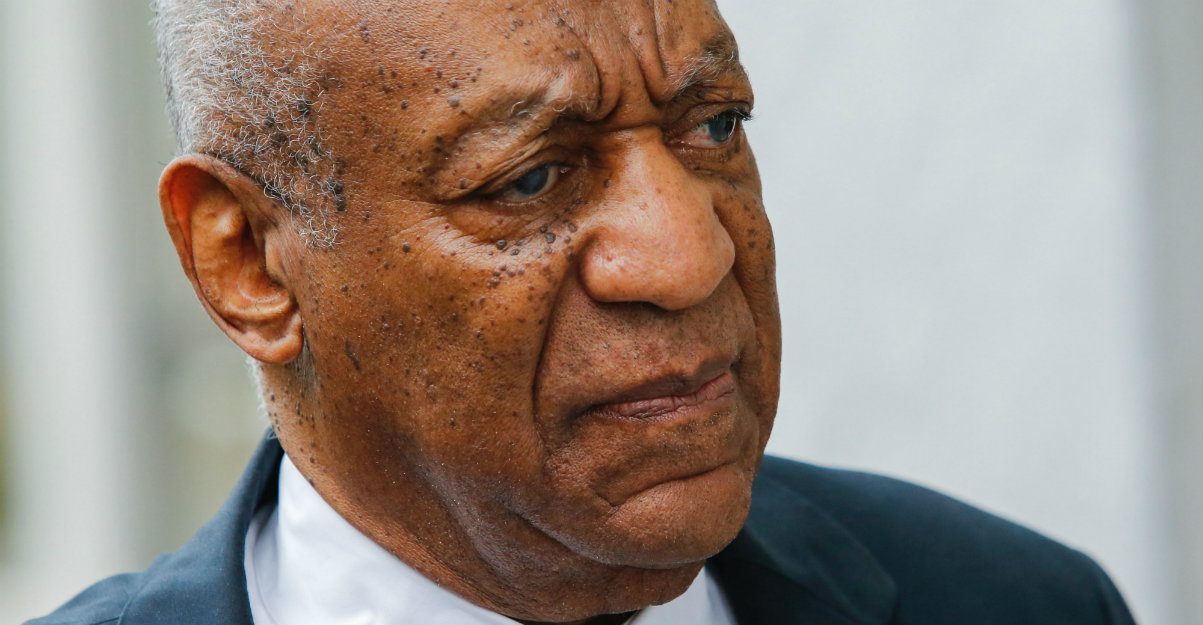 Beyond some legal team reshuffling, there hadn't been much word on the Bill Cosby front lately. That changed Monday as Cosby's wife Camille Cosby has embarked on what the prosecution calls a "desperate, 11th-hour" attempt to delay sentencing.
According to the Associated Press, Camille Cosby has filed a complaint with Pennsylvania's Judicial Conduct Board about Judge Steven O'Neill's alleged bias. O'Neill is scheduled to sentence Cosby on Septmber 24 for felony sexual assault.
In a statement, Cosby claimed O'Neill would "compound his unethical behavior" by sentencing her husband.
"My husband was improperly prosecuted in a trial presided over by an unethical judge who seeks to compound his unethical behavior by sentencing Bill Cosby, now 81 years old and unsighted, for a charge that the former DA and the judge's rival, Mr. Castor, determined was unwarranted and would never be prosecuted," she said.
Montgomery County District Attorney Kevin Steele recently said such attacks on O'Neill are part of "a desperate, 11th-hour attempt to stop the sentencing."
Nonetheless, the Cosbys maintain that they want former county prosecutor Bruce Castor and Judge O'Neill's history examined. Castor decided not to prosecute Cosby when Andrea Constand reported an accusation to police in 2005. They claim that history goes back to the late 90s, when Castor and O'Neill both gunned for the county prosecutor job. Any hard feelings might also have to do with O'Neill's having dated a woman in Castor's office.
As Law&Crime recently noted, Bill Cosby has taken other measures to ensure that he has the best chance possible of overturning his conviction on appeal. One such measure was the hire of star attorney Peter Goldberger. Goldberger's specialty is appeal and post-conviction matters, and he has represented plenty of known individuals. One of Goldberger's most recent high-profile clients was rapper Meek Mill.
Cosby sent attorneys Tom Mesereau and Kathleen Bliss packing in June, after he was convicted on three counts of aggravated indecent assault. Mesereau and Bliss raised eyebrows during that trial when they called Cosby accuser Andrea Constand a "pathological liar." They were replaced by Joseph P. Green. 
One of the things Green and Goldberger have been disputing is the classification of Cosby as a "sexually violent predator." Green forecasted this dispute in early August, arguing that the Court "must declare the statute unconstitutional, and refuse to hold a hearing on the Commonwealth's request to deem Mr. Cosby a sexually violent predator."
District Attorney Steele had a different opinion on this:
Upon receiving the Sexual Offenders Assessment from the Sexual Offenders Assessment Board opining the defendant to be a Sexually Violent Predator, the Commonwealth, pursuant to 42 Pa. C.S.A. § 9799.24., respectfully requests The Court schedule a hearing to determine whether the Defendant is a Sexually Violent Predator.
As mentioned, Cosby's first sexual assault trial ended in mistrial because of a hung jury. The second trial began in March 29 of 2018 and ended just about one month later.
[Image via EDUARDO MUNOZ ALVAREZ and AFP and Getty Images]
Have a tip we should know? [email protected]