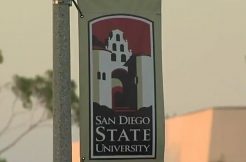 Police say a Muslim student at San Diego State University was recently mugged by two men in a possible hate crime. According to the police report, the woman was walking to her car at around 2:30 p.m. when the two men grabbed her backpack and purse, and took her car keys. They reportedly made an anti-Muslim statement, and also mentioned President-Elect Donald Trump. She left to get cops, but her car was gone when authorities arrived. No injuries were reported.
The suspects are described as 1) a 5'9" white male with blond or brown hair and "light eyes" with a white t-shirt and jeans; and 2) a 6'2" Hispanic male with a dark hair, wearing dark pants, and a gray hoodie.
"We condemn this hateful act and urge all members of our community to join us in condemning such hateful acts," University President Elliot Hirshman said in a statement obtained by KPBS. He said the incident was being investigated as a possible hate crime, and also mentioned that the student had been wearing a hijab. "Hate crimes are destructive to the spirit of our campus and we urge all members of our community to stand together in rejecting hate."
In California, hate crime offenses can net convicted offenders up to an extra four years in prison on top of any felony sentence.
The SDSU Muslim Student Association told LawNewz.com that they're scheduling a protest for Monday in order to support the victim: "We are currently redirecting any media related messages to our protest on Monday at SDSU where there will be interviews and stories shared."
Updated – November 10, 12:45 p.m.: Added a statement from the SDSU Muslim Student Association.
[Screengrab via ABC 10]
–
Follow Alberto on Twitter (@Alberto Luperon)
Have a tip we should know? [email protected]