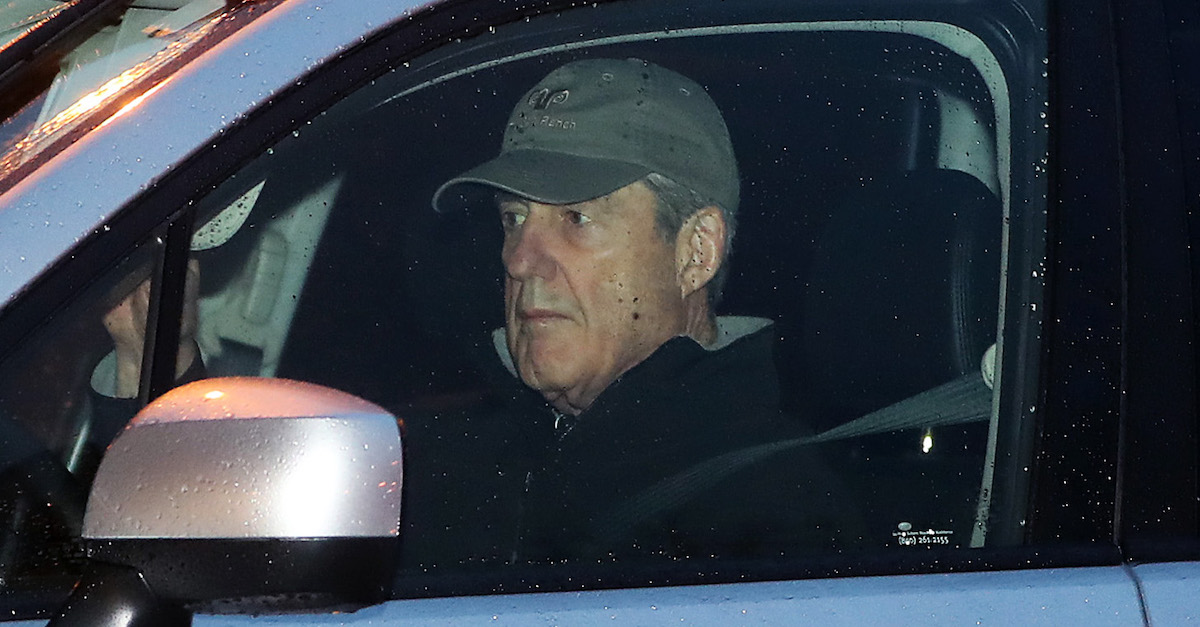 Special counsel Robert Mueller's long-anticipated confidential Russia report is being handed over to Attorney General William Barr for review. This will take some time for Barr to review and although he has promised transparency, it's not yet clear how much of the report the American public will get to read.
The Washington Post's Ellen Nakashima said that House Judiciary Committee is expected notification of the report's delivery by 5 p.m.
ABC News' George Stephanopoulos opened his show at 5 p.m. by confirming that the report was handed to Barr. A Justice Department spokeswoman confirmed that Barr has received the report. Trump attorneys Rudy Giuliani and Jay Sekulow also confirmed the news.
Barr may be able to provide information to Congress on Mueller's findings "as soon as this weekend," per Reuters.
"I write to notify you … that Special Counsel Robert S. Mueller III has concluded his investigation of Russian interference in the 2016 election and related matters," Barr said. It does not appear at this time that there will be additional indictments.
Barr is "reviewing the report and anticipate that I may be in a position to advise you of the special counsel's principal conclusions as soon as this weekend."
Leading up to this event, the rumblings of a major development in the Mueller probe were happening in the background. Time and again predictions about Mueller's next move and timeline have been proven wrong, but it seems this one more on the mark.
Various factors contributed to media reports that Mueller would being taking this step soon. Top prosecutor Andrew Weissmann's departure was one of them, but Mueller attorneys Michael Dreeben and Adam Jed also said in a court filing that they were busy this week.
RELATED: Key Factors to Keep in Mind While Waiting for Robert Mueller's Russia Report
Rumor had it that the report might be handed over by end of week.
Paul Manafort, Michael Cohen, Michael Flynn, George Papadopoulos and Rick Gates have all pleaded guilty as part of the investigation that President Donald Trump has often attacked as a "witch hunt." Roger Stone has also been charged. His trial is scheduled to begin on Nov. 5. In total, 37, including Russian military intelligence officers, were charged in the Mueller probe.
Mueller was appointed to investigate the following thins:
The Special Counsel is authorized to conduct the investigation confirmed by then-FBI Director James B. Comey in testimony before the House Permanent Select Committee on Intelligence on March 20, 2017, including:

(i)  any links and/or coordination between the Russian government and individuals associated with the campaign of President Donald Trump; and
(ii)  any matters that arose or may arise directly from the investigation; and
(iii)  any other matters within the scope of 28 C.F.R. § 600.4(a).

(c) If the Special Counsel believes it is necessary and appropriate, the Special Counsel is authorized to prosecute federal crimes arising from the investigation of these matters [emphasis ours].
Earlier Friday, Mueller spokesman Peter Carr responded to a question by pointing to a regulation explaining what Mueller was expected to do after the investigation.
(c) Closing documentation. At the conclusion of the Special Counsel's work, he or she shall provide the Attorney General with a confidential report explaining the prosecution or declination decisions reached by the Special Counsel.
[Image via Mark Wilson/Getty Images]
Have a tip we should know? [email protected]