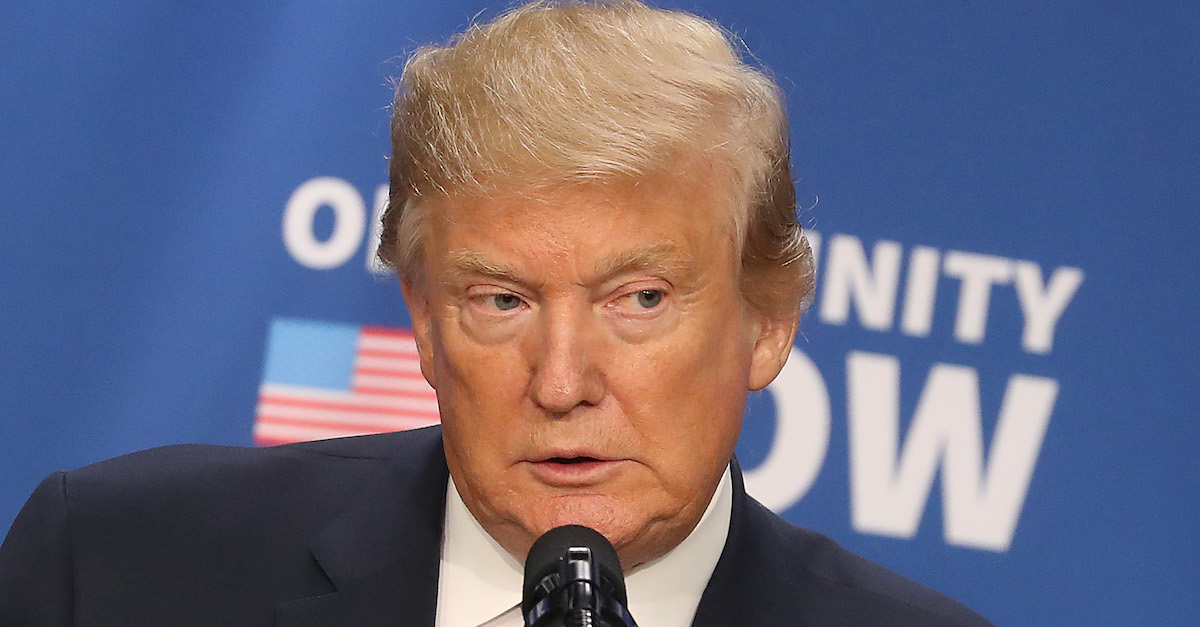 Law&Crime's team of lawyers is sorting through the Mueller report and will update this piece accordingly. We will update with each episode as we fine them. 
U.S. Attorney General William Barr dispelled of collusion notion almost immediately after receiving Special Counsel Robert Mueller's confidential Russia report. Barr quickly cleared President Donald Trump and Trump campaign members of conspiring with Russia; what he didn't do was say that Mueller had exonerated Trump of obstruction of justice. In fact, he said the opposite and later said that he and Deputy Attorney General Rod Rosenstein determined the evidence "wasn't sufficient" for the charge. Thus, it was left for all of us to wait until the report was released and see for ourselves whether there were any damning lines about obstruction.
"The evidence we obtained about the president's actions and intent presents difficult issues that would need to be resolved if we were making a traditional prosecutorial judgment," Mueller wrote. "At the same time, if we had confidence after a thorough investigation of the facts that the president clearly did not commit obstruction of justice, we would so state.
All along the charge hinged on a provable display of corrupt intent, and it seems Mueller thought incidents could have been "interpreted innocently."
At a Thursday morning press conference, Barr said that Mueller examined 10 "episodes" in particular over the course of the obstruction investigation. Let's see where the chips fell, and whether the James Comey firing, the Jeff Sessions mind-games and "other episodes" are as inconclusive on intent as the Justice Department says.
Mueller did say out of the gate that President Trump "reacted negatively to the Special Counsel's appointment. He told advisors that it was the end of his presidency, sought to have Attorney General Jefferson (Jeff) Sessions unreguse from the Russia investigation and to have the Special Counsel removed, and engaged in efforts to curtail the Special Counsel's investigation and prevent the disclosure of evidence to it, including through public and private contacts with potential witnesses."
However, on the matter of intent mentioned later on, Mueller said "substantial evidence indicates that the catalyst for the President's decision to fire Comey was Comey's unwillingness to publicly state that the President was not personally under investigation, despite the President's repeated requests that Comey much such an announcement."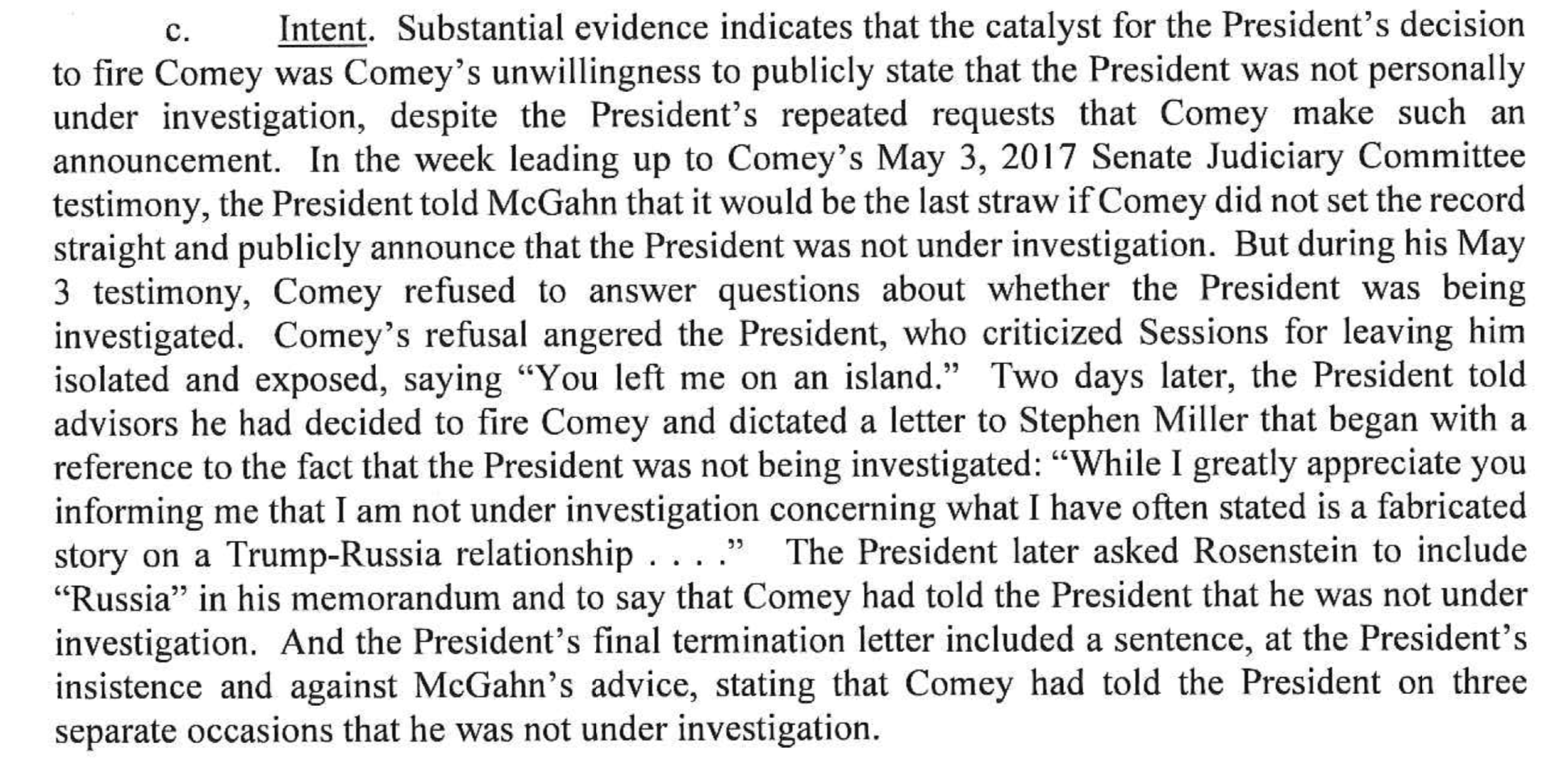 Here is a look at some of the other important episodes:
1) Trump's conduct regarding the Michael Flynn investigation
In the executive summary provided in the report, Mueller discussed fired Trump National Security Advisor Michael Flynn's lie about speaking with Russian Ambassador Sergey Kislyak "about Russia's response to U.S. sanctions on Russia for its election interference." Mueller then recounted how Trump invited then-FBI Director James Comey to dinner, asked for loyalty, asked for Flynn's resignation and then celebrated it as a firing.
"Now that we fired Flynn, the Russia thing is over," Trump said. The special counsel also noted how Trump said he hoped Comey could "let this go," this being the Flynn investigation.
Mueller also explored the firing of Comey. He recounts the time Comey was told to sign a termination later stating that he "informed the President that he was not under investigation." Comey was fired "before hearing from the Department of Justice" and Trump soon afterwards said that the ouster represented "pressure" being "taken off." Mueller also noted how Trump said this "made-up […] thing with Trump and Russia" had to do with it.
2) The President's reaction to public confirmation of FBI's Russia investigation
Mueller then recalled the time Trump tried to prevent Jeff Sessions from recusing himself from the Russia probe, asking White House Counsel Don McGahn to stop it. Trump never let the Sessions recusal go and on a few occasions lashed out at him on Twitter.
"The President expressed anger at the decision and told advisors that he should have an Attorney General who would protect him," Mueller noted. "That weekend, the President took Sessions aside at an event and urged him to 'unrecuse.'"
3) Events leading up to and surrounding the firing of James Comey 
Mueller also explored the firing of Comey. He recounts the time Comey was told to sign a termination later stating that he "informed the President that he was not under investigation." Comey was fired "before hearing from the Department of Justice" and Trump soon afterwards said that the ouster represented "pressure" being "taken off." Mueller also noted how Trump said this "made-up […] thing with Trump and Russia" had to do with it.
4) Trump's reaction to Mueller's appointment: "I'm fucked"
When President Trump first found out that Robert Mueller was appointed special counsel, he had this to say in response:
Oh my god. This is terrible. This is the end of my Presidency. I'm fucked.
He then got mad at then-Attorney General Jeff Sessions for recusing himself from the investigation, allowing Deputy Attorney General Rod Rosenstein to appoint Mueller. He told Sessions to resign, and Sessions agreed, but Trump changed his mind the next day and allowed him to stay.
5) Trump claimed Mueller had conflicts of interest. Steve Bannon said this was "ridiculous"
In his discussion of Trump's "efforts to remove the special counsel," Mueller wrote that when he was first appointed, Trump said it was the end of his presidency, and claimed that Mueller had conflicts of interest. His senior advisers, however, said this was "ridiculous," and that there was no problem with Mueller being special counsel.
The supposed conflicts were that prior to being named special counsel, Mueller had interviewed for the FBI Director position; he had once worked for a law firm that represented Trump associates; and Mueller had once had a dispute over fees related to membership at a Trump golf course in Virginia. Trump's aides said these weren't real conflicts, and Steve Bannon even called it "ridiculous." Bannon also pointed out that the White House had invited Mueller to talk about the FBI, and that Mueller hadn't sought out the director position.
6) Trump told Don McGahn to have Mueller fired
Mueller wrote that because of these alleged conflicts, Trump directed Don McGahn to have Mueller dismissed. McGahn wouldn't do it, out of "fear of being seen as triggering another Saturday Night Massacre." McGahn considered quitting, but ultimately did not. Trump never brought it up again. Prior to this, Trump had asked McGahn to reach out to Rosenstein about conflicts. McGahn refused, and warned Trump that any appearance of meddling in the investigation would look bad as far as possible obstruction. Trump was already being looked at for possible obstruction over his firing of FBI Director James Comey.
"On January 26, 2018, the President's personal counsel called McGahn's attorney and said that the President wanted McGahn to put out a statement denying that he had been asked to fire the Special Counsel and that he had threatened to quit in protest. McGahn's attorney informed the president's personal counsel that the Times story was accurate in reporting that the President wanted to special counsel removed, " the report said.
The report says that Trump also asked Chris Christie for advice about having Mueller fired. Christie told him it was a bad idea because there was no basis for it and he would lose Republican support.
Mueller's report discussed all of this in the context of obstruction of justice. He said that "a threshold question" is whether Trump actually directed McGahn to have Rosenstein fire Mueller, or if he simply wanted McGahn to have Rosenstein look into conflicts. While there was evidence to show that Trump just wanted Rosenstein to look at conflicts, Mueller said, "Substantial evidence, however, supports the conclusion that the President went further and in fact directed McGahn to call Rosenstein to have the Special Counsel removed."
Mueller supported this by saying that Trump already had issues of conflicts brought to the DOJ's attention, and that he told McGahn, "Mueller has to go."
7) Trump tried to get Sessions to step in and restrict Mueller's investigation, but it didn't happen
Another incident that Mueller discussed is when Trump told adviser Corey Lewandowski to deliver a message to Sessions, instructing him to meet with Mueller and limit the scope of the investigation to addressing interference in future elections. Lewandowski never delivered the message, instead asking senior White House official Richard Dearborn to do it. Dearborn told Lewandowski he gave Sessions the message but in reality he had not.
As Mueller says in his report, had Trump succeeded in getting Sessions to impose such limits on the investigation, not only would this have gone against Sessions' recusal, it would have impeded an existing investigation.
8) Trump didn't want to know about Don Jr.'s Trump Tower meeting, and didn't want the public to know, either
In discussing the infamous Trump Tower meeting that Donald Trump Jr. set up with a Russian attorney and senior campaign officials, Mueller addresses Trump's response to the existence of emails showing how it was arranged. Trump said in his sworn written statements to Mueller that he didn't know about the meeting before it happened. Mueller says that when Trump learned about the emails, he didn't want to know what was in them. In terms of a statement to the media about them, Trump wanted as little information as possible to get out. It has been widely reported that Trump influence his son's initial statement to the press, which said the meeting dealt with Russian adoption, which he had apparently been told was a matter that was discussed.
Mueller's report notes that while Trump didn't want information about the meeting to get out, this was in the context of media reports, not any official proceeding.
9) The president tried multiple times to have Jeff Sessions reverse his recusal from the Russia investigation
Trump really wanted Sessions to oversee the Russia probe, but Sessions didn't do what the president wanted. Trump apparently attempted to take matters in his own hands.
"According to Sessions, the President asked him to reverse his recusal so that Sessions could direct the Department of Justice to investigate and prosecute Hillary Clinton, and the 'gist' of the conversation was the the President wanted Sessions to unrecuse from 'all of it' including the Special Counsels Russia investigation," the report said.
During an Oval Office meeting, which Staff Secretary Rob Porter attended, the president continued to suggest that Sessions could "unrecuse" which Porter linked to taking back supervision of the Russia investigation.
10) Mueller provides analysis of what Trump's urging of Sessions recusal might mean
Mueller said that it was part of his understanding of the president's conduct that he wanted Sessions to tighten the grip on the Mueller investigation.
"There is evidence that at least one purpose of the President's conduct toward sessions was to have Sessions assume control over the Russia investigation and supervise it in a way that would restrict its scope," the report said.
11) Trump's conduct toward Michael Flynn, Paul Manafort, and another person whose name is redacted
FLYNN: Trump tried to remain personally cordial with Flynn, even after demanding Flynn's resignation. When Flynn began cooperating with Mueller, Flynn's attorneys said they could no longer have an open line of communication with the White House. Trump's personal attorney was "indignant and vocal" in his disagreement and said he wanted a "heads up" about what Flynn was doing "just for the sake of protecting all our interests if we can. Trump's counsel considered Flynn as hostile after that point. Trump himself said Flynn might be the subject of pardons and that Flynn was being treated unfairly. ANALYSIS: "Because of privilege issues," presumably attorney-client, "we could not determine whether the President was personally involved or knew bout the specific message his counsel delivered to Flynn's counsel."
MANAFORT: After Manafort and Gates were indicted, Manafort told Gates that he (Manafort) had talked to Trump's attorney and was assured that Trump was "going to take care of us." Manafort told Gates not to plead guilty. Later, though, Trump said that "he never liked Manafort and that Manafort did not know what he was doing on the campaign." Meanwhile, Trump was discussing with aides whether Manafort's information would be damaging. All this occurred while Trump was criticizing the prosecution attempts against Manafort and Gates. What follows is a lengthy play-by-play of public statements made by Trump and his personal attorney Rudy Guiliani.
ANALYSIS: Trump's statements about Manafort had the potential to influence Manfort's decision whether to cooperate, had a nexus to an official proceeding, and suggests that Trump "intended to encourage Manafort not to cooperate" because he could have merely received a pardon instead of cooperating for a lesser sentence.
REDACTION: Several pages of the report are redacted citing possible harm to an ongoing manner. The pages appear to involve another individual whose name is not revealed.
12) Trump's conduct involving Michael Cohen
Cohen lied to Congress about Trump's level of involvement with the $1 billion Trump Tower Moscow project.  His statement was "circulated in advance to" and "edited by" others who had a joint defense agreement with Trump.
Trump "privately passed messages of support" to Cohen after the FBI raided Cohen's home and office.  Trump even called Cohen after the FBI raided Cohen's home, hotel room, and office.  Trump told Cohen to "hang in there" and "stay strong."
Cohen discussed pardons with Trump's counsel "and believed that if he stayed on message, he would get a pardon or the President would do 'something else' to make the investigation end."
Trump's personal counsel told Cohen to stay on message and that, if he did, Trump would have "his back."  Cohen felt compelled to lie after conversations he had with Trump's personal counsel.  Staying on message and lying would result in protection from Trump, Cohen felt.
After Trump responded to a reporter's question about pardons for Cohen as a "stupid question" and that he "hadn't even through about" it, Cohen "strongly signaled his willingness to cooperate" with Mueller.
After Cohen started cooperating with Mueller, Trump started calling him a "rat" and suggested Cohen's family members had committed crimes.
The report contains a detailed outline of exactly how much contact there was between Michael Cohen and Russian officials regarding the Trump Tower.
Cohen tried to arrange through Felix Sater a meeting between Trump, Russian President Vladimir Putin, and Russian Prime Minster Dimitry Medvedev at a June 2016 St. Petersburg economic forum.  While Trump was claiming publicly that he had nothing to do with Russia, he was asking Cohen to "lock and load" the deal.  Trump's advisors told him to distance himself from Russia, but in reality, he was not doing that, Cohen claims.  Cohen said he "probably" showed a Sater text message about the deal to Trump. Cohen felt the need to "stay on message" when reporters began inquiring about the Moscow project and began lying about the deal in order to stay on message.  Cohen says he discussed the untruthful talking points with Trump, the report says.
Mueller submitted Questions to Trump about the timing of the Moscow Tower.  Trump's written responses "did not answer those questions about Trump Tower Moscow directly and did not provide any information about the timing of the candidate's discussions with Cohen about the project or whether he participated in any discussions about the project being abandoned or no longer pursued."
Trump's response:  "I had few conversations with Mr. Cohen on this subject.  As I recall, they were brief, and they were not memorable.  I was not enthused about the proposal, and I do not recall any discussion of travel to Russia in connection with it . . . I do not recall being aware at the time of any communications between Mr. Cohen and Felix Sater and any Russian government official regarding" the Moscow project.  Later, after Cohen pleaded guilty, Mueller's office attempted to ask more follow-up projects, but Trump declined to answer them.
Giuliani "gave press interviews that appeared to confirm Cohen's account that the Trump Organization pursued the Trump Tower Moscow project well past January 2016."
ANALYSIS:  Mueller's team concluded that while Trump "knew" Cohen lied to Congress about the Moscow project, the available evidence "does not establish that the president directed or aided Cohen's false testimony."  Mueller's team did not seek to obtain the contents of Trump's communications with his own attorney, citing attorney-client privilege.
Megan Hadley, Ronn Blitzer and Aaron Keller contributed to this report. 
[Image via Mark Wilson/Getty Images]
Have a tip we should know? [email protected]