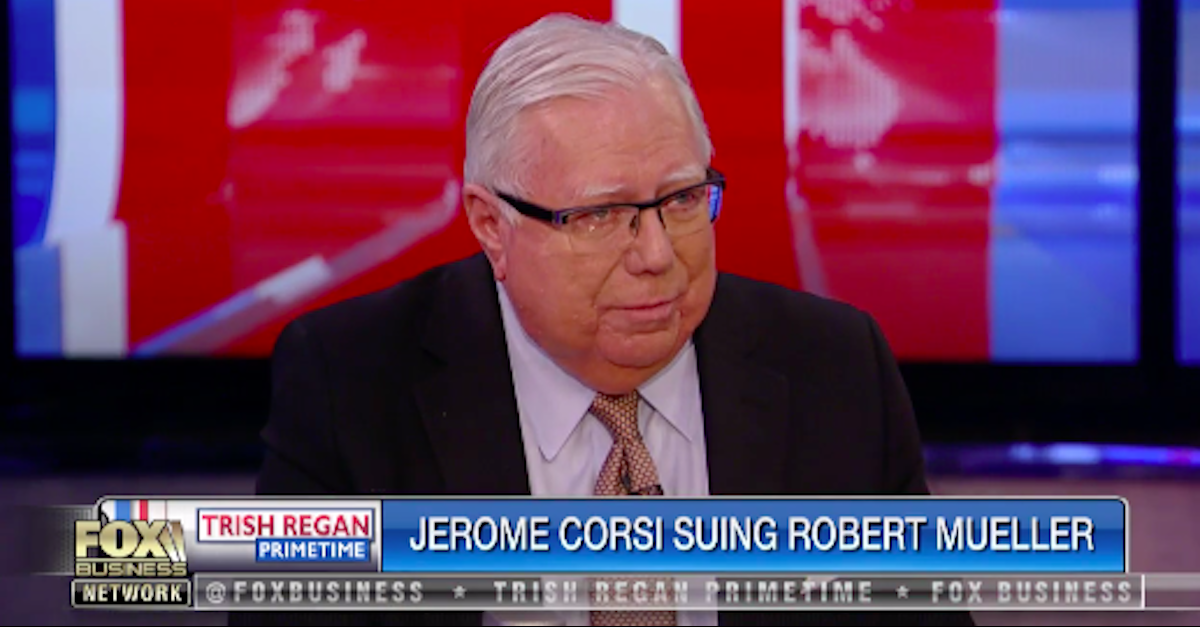 The grand jury that is hearing witness testimony for Special Counsel Robert Mueller's investigation seems to still have some work to do, despite rumors that Mueller will be submitting a report on his Russia probe as soon as next month. Right-wing author Jerome Corsi now says that his stepson Andrew Stettner received a subpoena calling him in to testify.
Corsi appeared on the Fox Business Network on Monday, saying that Mueller wants Stettner to come in to discuss text messages he sent to Corsi about a computer on Corsi's desk that had apparently been "scrubbed." Mueller's team has been looking into Corsi's communications, specifically messages between him and Roger Stone. Corsi and Stone have been suspected of having advance knowledge of hacked emails released by WikiLeaks during the 2016 campaign. A draft of a document that Mueller supposedly wanted Corsi to sign indicated that Corsi had deleted emails related to this.
"I think they think that Andrew was conspiring with me, as my computer expert, to destroy evidence," Corsi told host Trish Regan.
Corsi claimed that the computer was one that he hadn't used in a while, and Stettner wanted to use it. Corsi told Fox Business that there was no foul play here, and he even brought with him an external hard drive with backups that could prove that there was no incriminating material on there before.
When asked why he hasn't given Mueller the external hard drive, Corsi said, "I'd be happy to. … They haven't asked me for it."
He also said he has an old internal hard drive with records on it.
"I keep everything," he said. "I'm a journalist."
Corsi had been in plea negotiations with Mueller's office, but those talks broke down with Corsi alleging that prosecutors wanted him to lie. He then filed a lawsuit against Mueller and various government agencies, claiming that Mueller was pressuring him to give false statements, and that the government was carrying out "ongoing illegal, unconstitutional surveillance" of Corsi.
[Image via Fox Business Screengrab]
Have a tip we should know? [email protected]