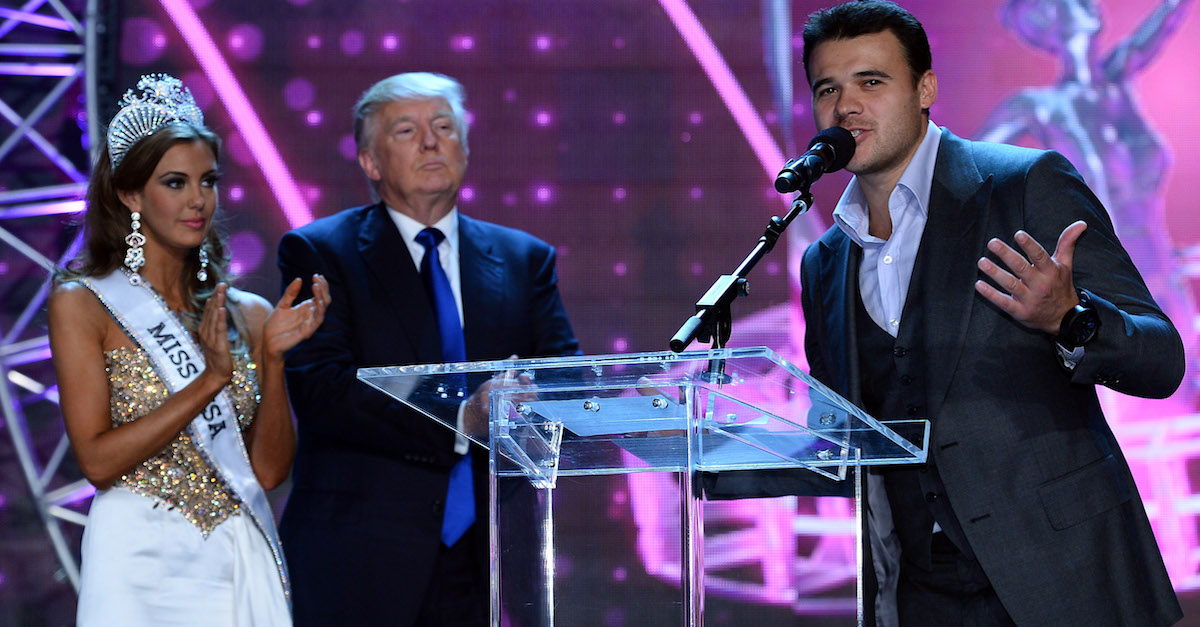 Special Counsel Robert Mueller reportedly wants to speak with Russian pop star Emin Agalarov about how the 2016 Trump Tower meeting with a Russian  lawyer came together. It's a campaign moment that's cast a cloud over Donald Trump Jr. and Jared Kushner, and incited the ire of President Donald Trump himself.
Since Agalarov helped set up that meeting, Mueller has reached out about a potential interview, Agalarov's lawyer Scott Balber told NBC News.
"Conversations with [the special counsel] are ongoing," Balber said. "Unclear how this will play out." Agalarov is the son of a Russian billionaire connected to Russian President Vladimir Putin.
The hope for Mueller in getting an interview like this would be that Agalarov "sings," or communicates knowledge of potential wrongdoing.
As you can see in the picture above, both Trump and Agalarov were present at the 2013 Miss America pageant in Moscow. NBC reported that the Agalarovs partnered with the Trump Organization to host this event and were involved in getting Russian lawyer Natalia Veselnitskaya, Trump Jr., and Kushner in the same room, evidently for some dirt on Democratic opponent Hillary Clinton.
Agalarov is on record saying in a Vice interview that he spoke with Trump Jr. before the meeting.
"I said, 'Listen there's some people that want to meet you,'" he said. "'They obviously want something that could potentially help them resolve things that you could be interested in or maybe not. If you can spare a few minutes of your time, I'd be grateful. If not, no problem.'"
"Of course. I'll do it if you're asking," Agalarov said Trump Jr. replied.
When President Trump's former lawyer Michael Cohen said Trump knew about the meeting in advance, something Trump had denied from the start, Trump was moved to deny this again.
This prompted questions about whether Trump Jr. had lied to Congress about what his father knew of the meeting.
[Image via Ethan Miller/Getty Images]
Have a tip we should know? [email protected]