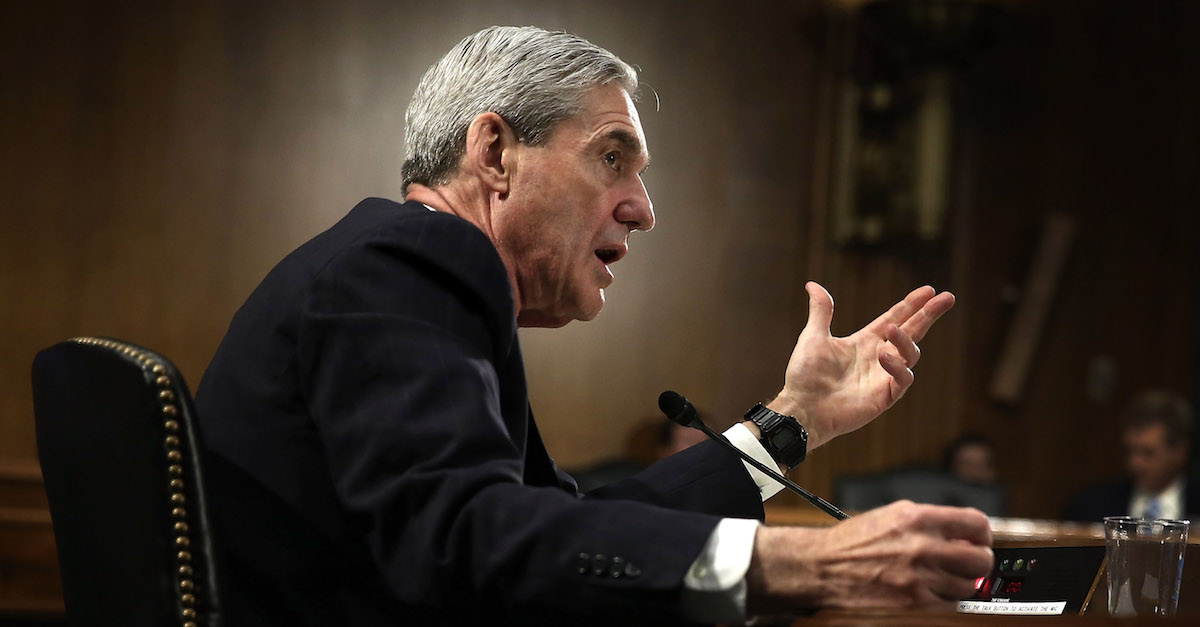 Robert Mueller is definitely done playing around with Paul Manafort. The special counsel wants the former Trump campaign chair sentenced and he wants the punishment to be severe.
Mueller's office submitted a 17-page filing with the U.S. District Court for the Eastern District of Virginia late Tuesday arguing why the defense's latest filing should in no way obviate the need for a harsh sentence–one that diverges from federal sentencing guidelines.
As Law&Crime reported before, Manafort's attorneys complained that Mueller's office had characterized their client's crimes and ongoing criminality as "brazen" while also taking the–apparently irresistible–opportunity to remind U.S. District Judge T.S. Ellis III that he once casually remarked upon Mueller's lack of interest in Manafort's then-alleged (now-confirmed) bank fraud.
Mueller's Tuesday filing rubbished all of those arguments–and more.
"As the Court is aware, the defendant exercised his constitutional right to trial in this matter and contested the facts and his guilt," the court document begins. "That alone undermines any reduction for acceptance of responsibility. And, although Manafort subsequently pleaded guilty in the District of Columbia prosecution, he has since breached his plea agreement by making false statements to the government and the grand jury."
Mueller proceeded to methodically argue against each and every argument Manafort's attorneys offered for leniency in sentencing.
According to Mueller, Manafort is a frozen stone of a criminal who hasn't actually offered any sort of cognizable contrition.
[T]he defendant's brief is replete with claims that are at odds with acceptance of responsibility," the filing argues. "The defendant blames everyone from the Special Counsel's Office to his Ukrainian clients for his own criminal choices. Manafort suggests, for example, that but for the appointment of the Special Counsel's Office, he would not have been charged in connection with hiding more than $55 million abroad, failing to pay more than $6 million in taxes, and defrauding three financial institutions of more than $25 million dollars."
Mueller's deputy Andrew Weissmann also appears to have casually confirmed a longstanding legal rumor–namely that the feds have had their eyes on Manafort for quite some time.
"In addition to a lack of remorse, Manafort has his facts wrong: he was being investigated by prosecutors in this district and the Criminal Division of the Department of Justice prior to the May 2017 appointment of the Special Counsel," the filing notes.
The special counsel's office even goes so far as to mock Manafort's foibles in a footnote:
For example, Manafort notes: 'The cases that Special Counsel have brought against Mr. Manafort have devastated him personally, professionally, and financially. The charges and associated publicity have brought intense, negative media coverage and scrutiny, have destroyed his career, and have resulted in financial hardship for Mr. Manafort and his family." [sic] But it is Manafort's own criminal actions that have led to these consequences; it cannot be blamed on the government or a jury's holding him responsible for his crimes.
Mueller also criticized Manafort's ill-fated D.C. plea agreement as "alleged cooperation."
"The defendant asserts on several occasions that he 'cooperated' with the Special Counsel's Office and that he testified before the grand jury," the filing notes. "Manafort, however, violated his cooperation agreement with the government by lying about several topics to the government and the grand jury, as has been found by the District of Columbia District Court. And he has conceded that the government was within its rights to find him in breach."
Manafort's attorneys had also argued that their client wasn't likely to commit crimes again. So, Mueller's team pointed out that Manafort actually has committed crimes while under recent court supervision.
"The defendant argues that he presents 'no risk of recidivism … given the harsh lesson [he] has already learned, especially in light of his age.' There is no reason to believe this is so, and Manafort cites no evidence," Mueller argues. "Nowhere does the defendant address the fact that after he was indicted in two districts for crimes spanning a decade, including crimes through 2017, he committed the additional crimes in 2018 of tampering with witnesses while on bail from both courts."
Manafort's team did, however, cite some case law about non-recidivist defendants receiving relatively light sentences. But, Weissmann noted, those cases aren't on point because Manafort didn't stop committing crimes.
The argument here is pretty simple:
In support of his claim that the defendant poses no risk of recidivism, he cites to a series of studies unrelated to his own situation, as well as [a 2008 4th Circuit case.] That case is easily distinguished, in part because there was no evidence that the defendant engaged in criminal activity after his indictment.
The defendant's attorneys also submitted several references to case law suggesting that Manafort was being subjected to a sentencing disparity for his tax fraud convictions compared to other tax scofflaws. With something approaching the legal equivalent of a loud and sustained sigh, Weissmann argues that none of those cases were even close to being applicable to Manafort's case either.
"Manafort cites a smattering of offshore tax cases from across the country to argue that a lenient sentence is required to avoid unwarranted sentencing disparities among similarly-situated offenders," the Tuesday filing notes. "The cited examples, however, are inapposite, as none involves the combination of tax, FBAR, and bank fraud offenses evident in the jury's guilty verdict here—much less a defendant who continued to engage in deceptive and criminal conduct following indictment and after a guilty verdict and later guilty plea."
The filing goes on to distinguish those cases a bit further:
The cases that Manafort references vary widely from each other and from that of this defendant. The overwhelming majority of these cases involved guilty pleas (and thus award reductions for acceptance of responsibility); others, including several in this district, involved defendants who provided full cooperation and received credit for that cooperation and/or involved significant fines that were paid at or around the time of sentencing.
Mueller's team also dismissed concerns that Manafort's health and age precluded a tough sentence–arguing that he had been adequately treated for his health problems in an Alexandria lockup so far.
While a full sentence is still unlikely, Manafort faces between 19-24.5 years in prison in the EDVA due to his Aug. 2018 bank and tax fraud conviction. Manafort was found guilty on eight of 18 felony counts. The jury was hung on the remaining 10 counts due to a lone holdout juror.
Mueller responds to Manafor… by on Scribd
[image via Alex Wong/Getty Images]
Have a tip we should know? [email protected]