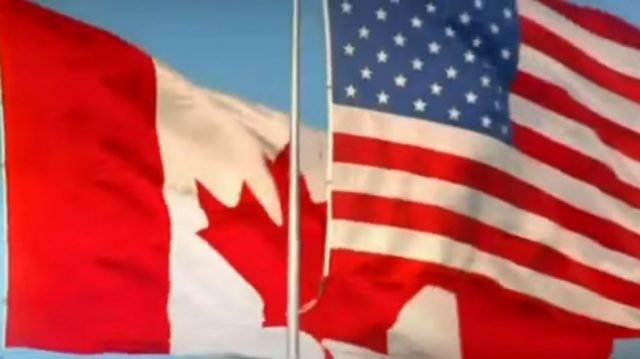 Much of the national security discussion during President Trump's campaign and now presidency has focused on the U.S. border with Mexico. Trump continues to push for his plan to build a wall between the countries to keep "bad hombres" from getting in. But a new report indicates that the U.S. might be better off devoting attention and resources to our neighbors to the north.
According to The Daily Beast, FBI documents that they obtained show that it's the Canadian border, not the Mexican one, that has drawn more people who were on terror watch lists. While overall border traffic is higher between the U.S. and Mexico, seven reports by the FBI Terrorist Screening Center showed that between April 2014 and August 2016, there were more encounters with known and suspected terrorists in northern states than in the south. The data shows that in August 2016, more than twice as many people on watchlists were encountered at land border crossings along the Canadian border than the Mexican one.
"Not to say that Mexico isn't a problem, but the real bad guys aren't coming from there—at least not yet," a senior official with the Department of Homeland Security told The Daily Beast.
However, the northern border may be easier to manage. According to a senior border official in Texas, the U.S.'s souring relationship with Mexico could make border security tougher. Meanwhile, U.S. Border Patrol Grand Forks sector chief patrol agent Aaron Heitke told the Beast that the relationship with Canada is "fantastic," plus tough terrain makes it more difficult for people to sneak through.
Still, according to the DHS official, it makes sense that potential terrorists would head north. "Unless you're incredibly stupid you're not going to try to sneak into the country where everyone is looking," he told the Beast. "You'd put on a coat and head to Canada."
[Image via screengrab]
Have a tip we should know? [email protected]