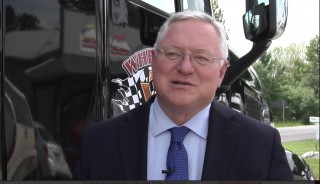 The Michigan State Senate has passed a bill that effectively reaffirms unconstitutional state anti-sodomy laws.
The bill — Senate Bill (SB) 219 — sponsored by Senator Rick Jones, a Republican state senator and former Eaton County Sheriff, basically says anal sex is a felony punishable by up to 15 years imprisonment. However, that doesn't appear to be what Jones intended the bill to do.
SB 219 was designed to be part of a larger package of bills known as Logan's Law.  The law is designed to prevent individuals convicted of animal abuse, animal torture or bestiality from possessing an animal for five years, and during probation, in the hopes the individual will seek mental health treatment.
"People wanted an animal abuse registry similar to a sex abuse registry," Jones continued.
So why does this latest bill include language that equates anal sex with crimes against nature? Senator Jones maintains it's just part of the legislative process. He claims that the anti-sodomy language is preexisting Michigan law and has no practical effect.
However, Section 158 of SB 219 provides, in part:
A person who commits the abominable and detestable crime against nature with mankind or with any animal is guilty of a felony punishable by imprisonment for no more than 15 years.
In defiance of stark criticism, Jones claims removing the anti-sodomy language would effectively poison the bill, though it was Senator Jones who included the language in the first place. When asked why he would include the phrase "crime against nature with mankind," Jones said, "in order to write that law, we had to go into a section of law, the bestiality section, which has sodomy in it and has been there forever. It has nothing to do with it."
The Senator claims he's spoken with gay rights groups in Michigan and they have no problem with the bill. However, Jones remains steadfastly against striking the language for fear that an issue he created might jeopardize the bill.
The U.S. Supreme Court struck down anti-sodomy laws in Lawrence v. Texas, a 2003 ruling that found them unconstitutional.
Yet conservatives across the country have been fighting to keep the laws on the books ever since. For example, Ken Cuccinelli, a former Virginia Republican Gubernatorial candidate, ran a 2013 campaign in which he sought to reinstate Virginia's unconstitutional Crimes Against Nature law.
The Supreme Court has found this language unconstitutional and any attempt to enforce this bill, if it were to pass, would be futile. Nevertheless, several states maintain unenforceable bans on sodomy or gay-sodomy.
This might seem like a great opportunity to finally remove the unconstitutional sodomy ban from the books, by simply striking the words "either with mankind or" from SB 219. However, Sen. Jones told LawNewz.com that such an amendment would jeopardize the entire bill.
[screengrab via www.senatorrickjones.com]
Have a tip we should know? [email protected]