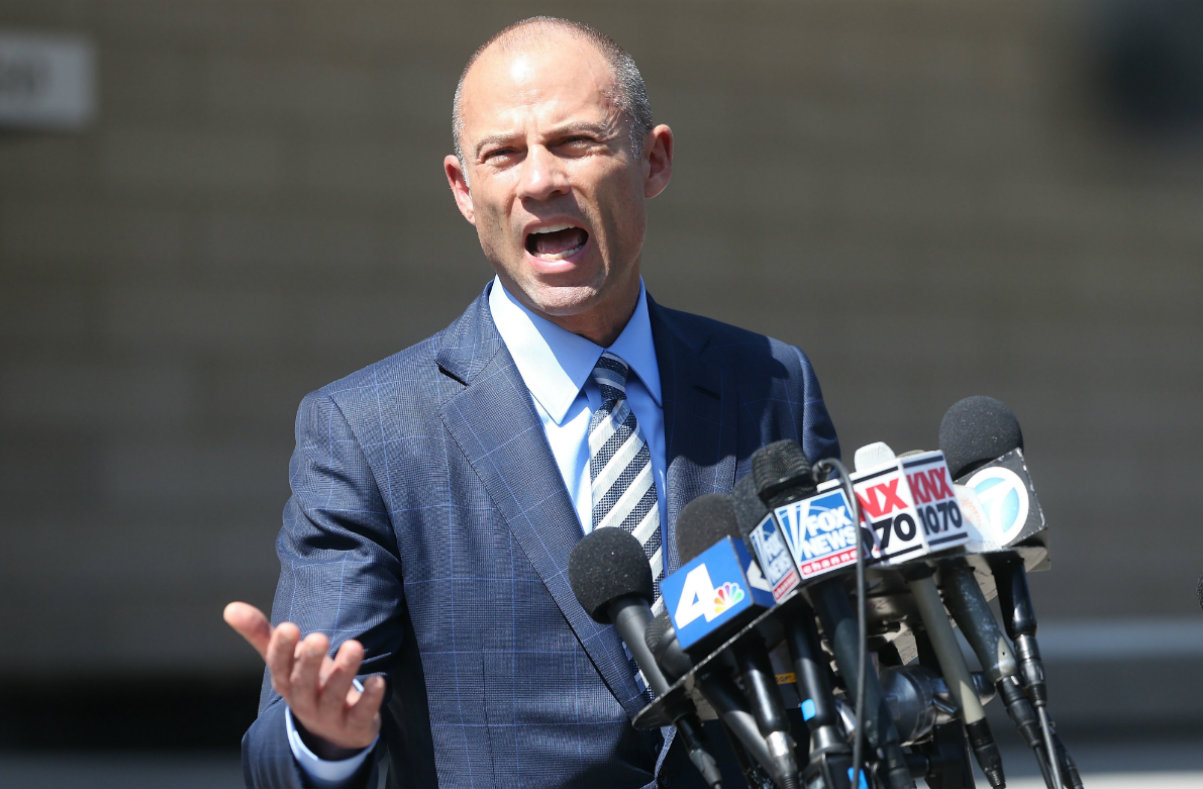 It's probably fitting that Trump foe Michael Avenatti is himself an avid twitter user, because he used the platform on Sunday to highlight an apparent bombshell involving Michael Cohen, former National Security Adviser Michael Flynn, and a former Qatari diplomat. It all started with an appearance Saturday morning on AM Joy.
"If folks want to continue to hide this stuff, and cover it up, I think it's fantastic, because I'm going to out them," said the attorney, who is representing Stormy Daniels (real name Stephanie Clifford) in her lawsuit against Cohen and Trump over a nondisclosure agreement about an alleged affair with the president. "We're going to out them. We're going to bring all this stuff to light. So if you're out there, and you have stuff relating to your relationships with Michael Cohen that you're concerned are going to come out, you should be concerned because they are going to come out, so you better come clean with the American people. You better try to get out in front of this. Period. And that's a stern warning Saturday morning."
Welp, he followed up Sunday with a few intriguing tweets.
Warning ignored. So here it goes.
December 12, 2016 – Trump Tower. Details to follow… pic.twitter.com/aEuuhRHB4a

— Michael Avenatti (@MichaelAvenatti) May 13, 2018
And to be clear – by "warning ignored" I am referring to the refusal of various parties to come clean and the failure of various parties and news outlets to stop with the personal attacks on our side. Keep pushing us. #consequences #basta

— Michael Avenatti (@MichaelAvenatti) May 13, 2018
When Law&Crime reached out for elaboration, Avenatti did not answer specific questions about who these news outlets and various parties were, or how the tweets might pertain to the lawsuit against Trump and Cohen.
The first two tweets were cryptic, but he got spicy with the third and fourth.
Why was Ahmed Al-Rumaihi meeting with Michael Cohen and Michael Flynn in December 2016 and why did Mr. Al-Rumaihi later brag about bribing administration officials according to a sworn declaration filed in court?

— Michael Avenatti (@MichaelAvenatti) May 13, 2018
Trump Tower 12-12-16
Go to 7:42:30 and watch for 30 seconds (entrance with Mr. Cohen).
And then proceed to 9:08:15 and watch for 35 seconds (exit). #Bastahttps://t.co/4qltMgNLxd

— Michael Avenatti (@MichaelAvenatti) May 13, 2018
If the name Ahmed Al-Rumaihi doesn't sound familiar, then the name Ice Cube should. The actor/rapper (real name O'Shea Jackson) and his business partner in the BIG3 3-on-3 basketball league Jeff Kwatinetz are suing Al-Rumaihi and other investors in part for allegedly using them to get close to Trump administration officials.
Kwatinetz said in court filings on Tuesday that Al-Rumaihi, who is described as a former diplomat for Qatar, tried to get Kwatinetz to set up a meeting with him, the Qatari government, and Steve Bannon. Kwatinez claimed he was told to tell Bannon that the country would "underwrite" his political endeavors in return for support. This was a bribe, Kwatinetz believed.
"Al-Rumaihi laughed and then stated to me that I shouldn't be naive, that so many Washington politicians take our money, and stated 'do you think Flynn turned down our money?'" he said.
Avenatti said there is more evidence at play here.
"We have evidence beyond this supporting our allegations," he wrote in an email to Law&Crime.
We'll see where this goes, but for now, it's definitely got some attention, if Twitter is to judge. Take this with a grain of salt, of course, because the identity behind every account can't be easily verified if at all, but his first tweet about Al-Rumaihi got over 900 replies, 6,200 retweets, and 15,000 likes after about an hour and a half. The response seems to be pretty positive, and even got some attention from former Hillary Clinton staffer Adam Parkhomenko.
[Image via Mario Tama/Getty Images]
Have a tip we should know? [email protected].com