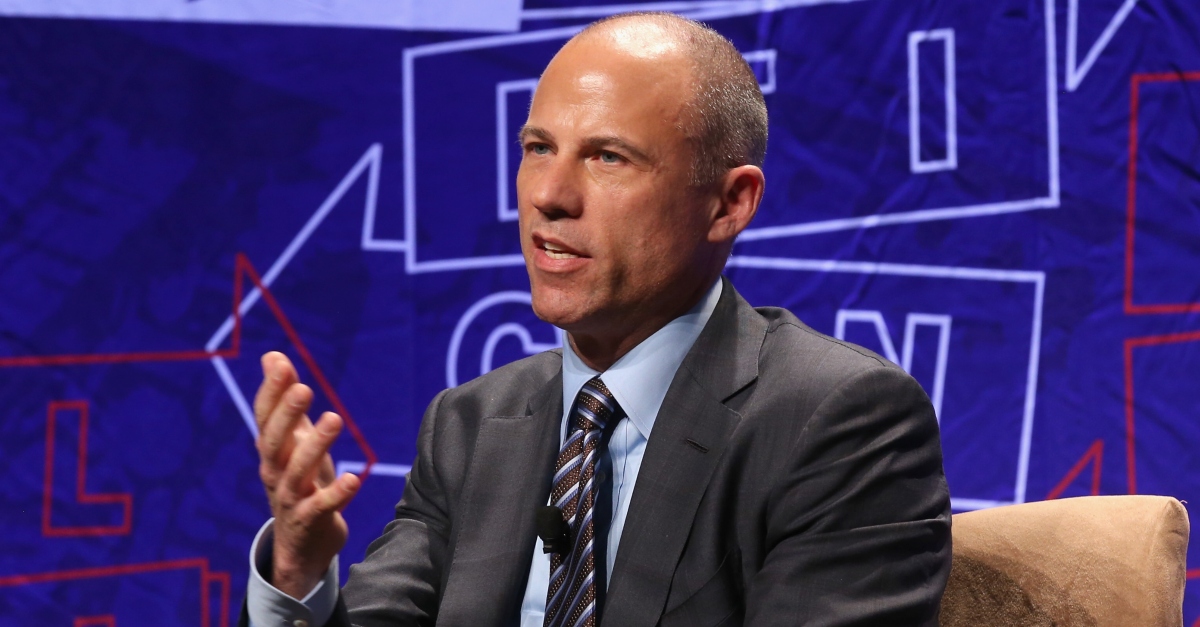 Attorney Michael Avenatti rung in the new year by calling out an Instagram user. According to screen shots Tweeted by Avenatti, the user wrote the following: "I honestly hope someone puts a fucking bullet in your head." Avenatti made the offending comment public in an attempt to crowdsource the person's identity. He also levied a return threat:
Meet Denny. If you can help identify him, it would be very helpful as his 2019 is about to get off to a rough start. pic.twitter.com/GVAmLNCBJ3

— Michael Avenatti (@MichaelAvenatti) January 1, 2019
The offending comment appeared to be a direct message with the time stamp of 6:37 a.m.
Law&Crime could not quickly locate the user's page because it seems to be down. The account "denny_den__" didn't appear when we used Instagram's search function. When we looked it up on Google, the top result was an Instagram user by that name. That person was said to have 909 followers, was following 1475 people, and wrote 797 posts, but the link leads to this: "Sorry, this page isn't available. The link you followed may be broken, or the page may have been removed."
Avenatti's screenshot shows that "denny_den__" had 949 followers, was following 1,492 people, and wrote 798 posts, so it apparently matches up with the Google result. He confirmed to Law&Crime in an email shortly before publication that we found the correct page.
"I will do everything in my power to see to it that this nutcase is prosecuted to the fullest extent of the law," he wrote. "If these idiots think they can intimidate me, they haven't been paying attention the last year."
The user could not be identified or reached for comment by Law&Crime as of press time.
The second Google search result for "denny_den__" apparently shows him commenting under a Instagram post from House Minority Leader Nancy Pelosi (D-California 12th District).
From a Google excerpt:
denny_den__ · @breakfast_at_briffanys just like we impeached Bill Clinton for receiving a blow job in the Oval Office and then lying about to on …
The full comment doesn't appear under Pelosi's post as of Tuesday afternoon.
The third result shows "denny_den__" apparently commenting under a post by director and musician Rob Zombie:
denny_den__ · @kfreeze21 ok you're clearly a faggot. Fuck off liberal.
This comment doesn't appear under Zombie's post as of Tuesday afternoon, but a Twitter user provided a screenshot under Avenatti's tweet. You can see the Google results here.

Strictly speaking, we don't know precisely why the user would wish harm on Avenatti. It's worth mentioning the attorney styles himself as a liberal firebrand opposed to President Donald Trump.
Other Twitter users under Avenatti's post claimed to have had a encounters with "denny_den__," and one said that he changed his user name before the page was taken down. Law&Crime was unable to confirm those accounts as of press time.
Instagram did not immediately respond to a Law&Crime request for comment.
[Image via Phillip Faraone/Getty Images for Politicon]
Have a tip we should know? [email protected]